NHS England criticised for instructing CCGs to fine providers and return cash to the centre
Midlands and East region given particularly strict instructions
Chris Hopson: "Provider leaders are entitled to expect a logical, supportive and reasonable operating model"
NHS England has been condemned for instructing clinical commissioning groups in some parts of the country to apply severe contractual fines to providers.
NHS Providers chief executive Chris Hopson told his organisation's annual conference this morning that CCGs were being "forced" to levy fines that were driving providers into deficit.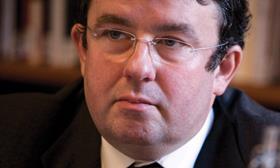 He added that CCGs had been told not to reinvest the fines in services, but return them to "the centre".
Chris Hopson said providers are entitled to expect 'a reasonable operating model'
HSJ has seen guidance sent to CCGs this autumn from NHS England's Midlands and East regional leaders, instructing them to impose the fines. The guidance says the normal financial penalties in the NHS standard contract are not sufficient to incentivise providers to hit performance targets such as waiting times for elective procedures, emergency care or cancer treatments.
It recommends using general condition nine of the standard contract. This allows withholding 2 per cent of the contract value if a "remedial action plan" to improve performance cannot be agreed. The value of the fines would be capped at 10 per cent of the total contract value.
The guidance says that when applying fines, "it should be stressed that the commissioner does not want to apply withholdings; what is wanted is resolution of the failure to meet service standards".
Commissioners should not use financial penalties to mitigate overspends, the guidance says, and the fines should not be regarded as a "separate income stream", it says.
HSJ understands the approach has varied according to region, with CCGs in the Midlands and East and in the South receiving particularly strict orders to impose fines.
Since September, NHS England is known to have asked CCGs to file monthly data returns detailing breaches of accident and emergency, elective waiting times and cancer performance standards. The returns also say which contractual actions have been taken relating to significant breaches of those targets.
A new letter to all CCGs detailing the action they should take against providers that fall short on performance metrics was circulated at a high level last week. It was expected to be sent out to the CCGs by now but has not yet been sent. It instructed CCGs not to spend money raised through the fines in order to boost their year-end surpluses, and explicitly linked the levying of fines to the Department of Health's overall financial position.
Mr Hopson told the conference that as a result providers were unable to manage their finances properly "because they don't know whether the fines will be permanently withheld, will be reinvested locally, or will eventually reach them via distressed funding".
He said: "Provider leaders are entitled to expect a logical, supportive and reasonable operating model and this is a great example of where that isn't happening. It has to change."
NHS England has been approached for comment.

David Williams is policy advisor (finances) at NHS Providers.