£1.8bn of NHS England's 2016-17 funding increase to go to "sustainability and transformation fund"
Funding from the pot to be allocated to all "emergency care providers" to help trusts cut deficits
Payment dependent on "non-negotiable conditions", such as agreeing plans to cut deficits and maintaining core standards
Fund comprises just under a third of NHS England's £5.5bn cash terms increase next year
NHS England is to put £1.8bn of the additional funding it has received for 2016-17 into a centrally managed "sustainability and transformation fund".
The Department of Health said this afternoon that money from the fund would be allocated directly to acute hospitals to help them eliminate deficits next year, but payment would depend on the providers "meeting a number of strict and non-negotiable conditions".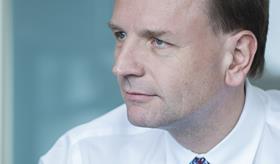 The fund will comprise just under a third of the £5.5bn cash terms increase to NHS England's budget in 2016-17.
In a statement, the DH said the fund would be broken down into two parts. The first would be "distributed to all providers of emergency care" to help them achieve financial balance, provided they have agreed 2016-17 "control total" targets with NHS Improvement and can demonstrate "initial progress" on meeting the other conditions attached to the funding.
The second element would be used to "target providers which can deliver additional efficiencies and improvements".
It is not known what the exact split will be, however it is likely that the bulk of the funding will be targeted at reducing provider deficits.
In an interview with HSJ this week, NHS England chief executive Simon Stevens said money will be diverted from "transformation" in 2016-17 to address provider deficits.
According to the statement, the "strict and non-negotiable conditions" set out by NHS Improvement, NHS England and the department for accessing that deficit reduction funding include:
agreeing with NHS England and NHS Improvement a "strong and measurable recovery plan" that shows how the trust will reduce deficits and break even within a reasonable timeframe, as well as a "control total" bottom line for its 2016-17 budget;
developing a plan and reporting regularly on progress towards achieving the savings outlined by the Carter review on NHS productivity;
making further progress to reduce agency spending, and agreeing "a trajectory of how much spend will fall and regular reporting against this trajectory";
agreeing a "credible plan for maintaining delivery of core standards", such as the four hour accident and emergency waiting standard, the 18 week referral to treatment standard and ambulance access targets; and
setting out "a clear and credible plan for achieving seven day services for patients throughout the country by 2020".
NHS Improvement chief executive Jim Mackey said: "The NHS is dealing with some significant challenges at the moment. This funding gives NHS providers the hope and possibility of doing things they have been unable to do this year: balance the books and deliver good emergency care performance.
"We will be working with them to ensure they get back to the levels of performance the NHS should expect and its patients deserve. Alongside this, trusts need to look at longer term transformations to meet changing patient needs over the coming years."
Mr Stevens said: "We've rightly decided to deploy a meaningful chunk of next year's hard won NHS funding growth to help get hospitals back on their feet, and in return patients and taxpayers will expect a return to fundamental performance standards and financial discipline.
"As that happens, we need to accelerate care redesign and free up a rising share of the NHS's new investment for critical priorities such as primary care, mental health and cancer services. The NHS's five year funding allocations being agreed at the NHS England public board meeting tomorrow aim to do just that."
Health secretary Jeremy Hunt said: "We're offering trusts help to improve their financial position and transform services for patients based on that planned investment, subject to strict conditions. This will allow hospitals to focus their efforts on making the NHS a truly seven day service, offering the same excellent world class care every day of the week."
Visit hsj.co.uk tomorrow from 10am for live updates from the NHS England and Monitor board meetings