Next financial year is supposed to be when the provider sector returned to financial balance
Chris Hopson warns providers are heading for at least a £500m deficit in 2017-18
He says the financial "gap" across the NHS could be £1bn next year
NHS trusts are heading for a deficit of more than £500m next year, the body which represents the sector has warned.
National regulators have said 2017-18 is supposed to be the year when the provider sector returned to financial balance.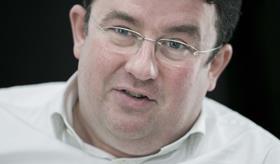 But Chris Hopson, the chief executive of NHS Providers, has told HSJ: "We understand that after recent discussions, providers are heading for at least a £500m to £600m deficit in 2017-18.
"There is also now growing financial pressure on the commissioning side and serious doubt on whether they can remain in surplus and cover the provider deficit from a non-recurrent reserve to the same extent that they did this year."
Mr Hopson said the pressure on commissioning budgets is thought to be "similar" to the provider side, which suggests "currently something like a £1bn gap in the NHS's 2017-18 finances".
More than a quarter of trusts have rejected their financial targets for next year. HSJ revealed earlier this month that these trusts would have to find average efficiency savings of 6.4 per cent to hit their targets.
NHS provider trusts have forecast a deficit of £873m in 2016-17, against the planned maximum of £580m. However, this can largely be offset by the £800m "risk reserve" that commissioners were forced to set aside at the start of the year. Significant overspending by CCGs has been covered by underspends within NHS England's central budgets.
However, NHS England chief executive Simon Stevens has told HSJ that the contingency funds available next year will be smaller than 2016-17.
Although there will still be a significant risk reserve, there is likely to be less scope to cover CCG overspending. Board members at NHS England warned at their meeting yesterday that there will be "far less flexibility to pull levers and offset things elsewhere" in 2017-18.
The Next Steps on the NHS Five Year Forward View, published today, does not offer detailed financial plans for 2017-18.
It said NHS England and NHS Improvement will "publish a national operational update during the first quarter", setting out final agreed control totals and plans.
Mr Hopson added: "Trusts look forward to working with NHS England and NHS Improvement to finalise two key details not covered in the plan.
"First, we need to finalise the 2017-18 financial targets. Given the new financial year starts tomorrow we need to rapidly work out how to fill this [£1bn] gap and what the overall provider sector financial target should be. We believe trusts will be doing well to reproduce this year's likely performance of an £800m to £900m deficit.
"Second, we need to work out what can actually be delivered in 2018-19 given that NHS frontline funding increases drop even further from 3.6 per cent in 2016-17 to 1.3 per cent in 2017-18 and then 0.4 per cent in 2018-19. This means that NHS real terms spending per person [adjusting for age] will actually decrease in 2018-19 – a very rare occurrence."
Jim Mackey, chief executive of NHSI, said: "Providers and commissioners have worked really hard in recent months to pull together plans for the future of local NHS services. This has helped us understand the challenges the NHS faces, and the opportunities for improvement and sharing best practice. But there is still a long way to go to ensure that plans for next year are deliverable and to address the ongoing risks in finance, capital and workforce."
Next steps for the forward view – what you need to know
1

2

3

4

5

6

Currently reading

Provider deficit will be 'at least £500m' in 2017-18

7

8

9

10