UK Statistics Authority will ask officials to "ensure clarity" when reporting on increases to NHS spending
Complaints centred around the government's claims that it is increasing spending by £10bn by 2021
Chancellor Philip Hammond defended use of the £10bn figure last week
The UK Statistics Authority will ask officials to "ensure clarity" when reporting on increases to NHS spending, in response to complaints about the government making misleading claims.
The complaints centred around the government's repeated statements that it is increasing real terms spending by £10bn by 2021, which have been criticised by the Commons health committee and health policy think tanks.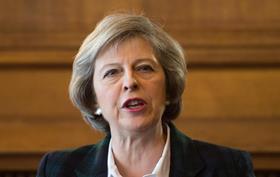 The £10bn figure relates to the NHS England budget, and refers to a six year period from 2014-15. Overall health spending will only increase by £6bn in that period, due to other budgets, such as public health, being cut.
Using 2015-16 as the baseline year for a five year period, as was the case in the Conservative manifesto and the Five Year Forward View, overall health spending will increase by £4.5bn.
In a letter published today, Ed Humpherson, director general for regulation at the UKSA, said: "An issue that appears to have caused confusion is that while NHS England spending is rising, some other elements of the Department of Health budget are decreasing.
"While the Department of Health has been open when asked about the nature of the estimated real terms increases in health spending and its split between NHS England and the department's overall budget, the total health spending figures are much less frequently referred to by government and may be less readily accessible.
"Across all areas of health spending, the principal source for statistics about expenditure to date and current future estimates are the Treasury's public expenditure statistical analyses, which are designated as national statistics meaning they have been assessed as meeting the highest standards of trustworthiness, quality and public value.
"I will be asking that HM Treasury investigate whether in future they can present estimates for NHS England and total health spending separately.
"I will also explore with officials producing these figures other ways in which they might ensure clarity around sources, time periods and what is being measured, and in what context, when reporting on the level of increase in real budget allocations to NHS England."
Complaints have also been made by Brisith Medical Association council chair Mark Porter and shadow health secretary Jon Ashworth about how the government has presented spending increases.
Last week, chancellor Philip Hammond defended the government's approach.
In last year's spending review, the government redefined the ringfence around "NHS spending" to only include the NHS England budget, which left the door open for cuts to other health budgets.