NHS England warns of high risk that specialised services budgets will be signficantly overspent
Due to 'stream' of new, expensive treatments
Managing this could involve slowing the adoption or spreading the costs of new treatments
It could also involve managing demand, including through a focus on variation in use
NHS England's chief financial officer has warned the board of a "substantial risk" that costs will "significantly" outstrip the budget he has set for specialised commissioning next year, due to an 'unprecedented stream' of new and expensive drugs and treatments.
Paul Baumann told yesterday's board meeting that NHS England was going to need to have "serious conversations" with other national bodies about the pace at which new treatments were made available, and with the pharmaceutical industry about ways they could be made affordable. "Something is going to have to give," he added.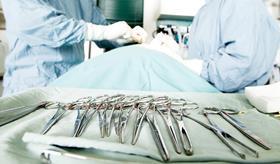 The board decided yesterday to raise specialised commissioning funding to £15.7bn in 2016-17, a cash increase of 7 per cent. This means the specialised commissioning budget will grow much more rapidly next year than the budgets for clinical commissioning groups or primary care. For the remaining years of the parliament, it will grow at a rate of between 4.5 and 4.8 per cent a year, which will consistently outstrip growth in the CCG budget.
However, Mr Baumann said the "momentum" level of cost pressure in specialised commissioning was historically between 4.5 and 5 per cent, after "all available efficiencies" were accounted for. On top of this, NHS England was facing an "unprecedented stream of major advances" in "highly effective" and typically "extremely expensive" drugs.
Even setting budget growth at 7 per cent for next year required an "exceptionally low estimate of the pipeline we're facing of these drugs and treatments, even in 2016-17," Mr Baumann told the board. He added that there was "a substantial risk… that it will be significantly greater than that".
NHS England is already on the hook for "legally binding pressures in 2016-17" arising from the introduction of costly new drugs for hepatitis C and cystic fibrosis, its allocation paper states. HSJ understands that a significant portion of the higher than usual growth planned for next year's budget is earmarked for new hepatitis C patients coming forward.
The "pipeline" is comprised of three elements: new drugs going through the National Institute for Health and Care Excellence approvals process, which are typically supposed to be made available three months after approval; treatments being assessed by NHS England's own clinical reference groups; and the numbers of patients coming forward for newly approved treatments.
Mr Baumann continued: "Something is going to have to give. We're going to have to have some serious discussion about the pace at which these particular treatments get adopted, we're going to have to have some very interesting conversations, I think, with the industry about how that can be made affordable, and we're going to have to think carefully about how things we do in other parts of the pathway can reduce pressure on specialised commissioning."
The only alternative would be to take money away from CCG allocations, from primary care, or from NHS England's £2.1bn transformation fund. Any of these moves would undermine the organisation's key strategic priorities of stabilising provider sector finances and making progress on implementing the Five Year Forward View.
Asked how realistic it was, in these circumstances, to set the specialised commissioning budget at 7 per cent growth for next year, Mr Baumann said: "I wouldn't put it in the allocations if I didn't think it was a realisable number. It isn't a balancing figure that I've generated to make the numbers balance.
"It is the one that worries me most of all the numbers in the 2016-17 position. And to an extent it worries me because there is, as these things currently stand, not a lot we can do to manage the flow of these things [coming] in. I think that's the bit that we need to change going into 2016-17."
As Mr Baumann indicated, there are broadly three ways NHS England can look to reduce pressure on specialised commissioning spend. It can enter discussions with NICE and the government about changing the pace at which approved treatments need to be adopted; it can enter discussions with the pharmaceutical industry about ways to spread the cost of new treatments in a more manageable way; or it can look to manage demand through service reform.
It is anticipated that the application of the Right Care programme to specialised commissioning will identify significant variation in use of specialised services that cannot be explained by patient differences. This could be the start of an effort to commission services in a way that will better contain demand for specialist care.
'Substantial risk' to specialised care budget, NHS England warns
1

Currently reading

'Substantial risk' to specialised care budget, NHS England warns

2

3