Colchester trust told it risks being put in the failure regime, which could result in its liquidation
CQC says its services are unsafe and patients are at risk of harm
Regulators say trust must form a "long term partnership" with Ipswich to "secure services"
CQC has no confidence in board to turn trust around
Colchester Hospital University Foundation Trust has been told by regulators if it does not form a "long term partnership" with Ipswich Hospital Trust it risks being put in the failure regime – a process which could result in its liquidation.
Partnering the two trusts "is the only way of securing services for patients long into the future" because of Colchester's unsafe services, according to NHS Improvement and the Care Quality Commission.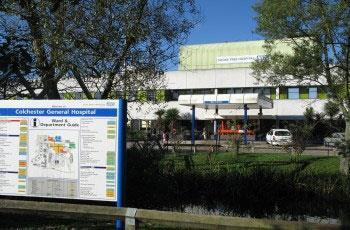 The intervention on Thursday follows the CQC concluding its most recent inspection of the trust. It does not have confidence in Colchester's board to turn around "poor and unsafe practices" and said a "radical solution" was required.
CQC chief inspector of hospitals Professor Sir Mike Richards has written to health secretary Jeremy Hunt outlining the next steps.
Sir Mike said he would begin consultation within the next week about putting Colchester in the trust special administration process "unless an immediate alternative solution can be instituted".
The controversial failure regime was first used to address financial, and to a lesser extent quality, issues at South London Healthcare Trust in 2012. South London was dissolved in October 2013.
Sir Mike said Colchester, which has been in special measures for more than two years, partnering with Ipswich would be "a better route" if viable because it could deliver change quicker than the administration process.
The regulators have not set out details of the "long term partnership" apart from to say it would "see staff with clinical and leadership expertise work across both organisations".
An NHS Improvement statement said: "Without a long term partnership with Ipswich, [Colchester] risks being placed under the trust special administration process.
"NHS Improvement will now work closely with the leadership of Ipswich and Colchester to set up a long term partnership which will see staff with clinical and leadership expertise work across both organisations."
Sir Mike added: "We have consistently found poor and unsafe practices which place patients at risk of harm at this trust.
"There have not been enough signs of improvement for me to recommend a further extension to special measures. I do not have confidence in the ability of the trust's current board to address the issues I have highlighted, though I do recognise that the chief executive has only been in post a short time. I believe a more radical solution is required to ensure the delivery of safe care at Colchester."
Sir Mike's letter to Mr Hunt explained: "I am currently minded to use CQC's powers to direct the appointment of a trust special administrator, subject to the statutory consultation requirements.
"I am aware, however, that NHSI are working hard to find alternative solutions. If credible plans can be put in place quickly, these could lead to improved care for the local population, in a more timely fashion than would be possible through the TSA process."
The recommendation comes jointly from Sir Mike and NHSI chief executive Jim Mackey.
Colchester chief executive Frank Sims said in a statement: "I'm pleased that NHS Improvement and the CQC acknowledge that we have made improvements.
"We have highly professional and dedicated staff who can be proud of what they have achieved, often in extremely challenging circumstances. I want to thank them for their magnificent service and I know a real determination to provide good care for local patients will continue to be uppermost in their minds.
"Improving care and quality to ensure we provide outstanding care, consistently for all patients at all times, will continue to be at the heart of everything we do.
"For example, we will continue to work tirelessly to deliver the quality improvement plan that was approved by the CQC and Monitor in late February."
Ipswich chief executive Nick Hulme said: " This will be a very exciting partnership where we will have to change, to work and think differently to bring lasting success. It will allow clinical teams to work together more closely to improve the care to the people we serve".