High profile commitment to publish trust level avoidable deaths data subject to major delay
Original tender for national work was not awarded and alternative project will not begin until next year
Department of Health and NHS Improvement declined to provide a timeline for trust level data
A high profile commitment by the health secretary to publish trust level information on avoidable deaths is subject to major delay, amid ongoing doubt about whether and how it can be calculated.
Jeremy Hunt said in February last year that he planned to publish estimates of the proportion of deaths which are avoidable for each trust by April this year. In March this year he again said all hospital trusts would publish their avoidable death rates.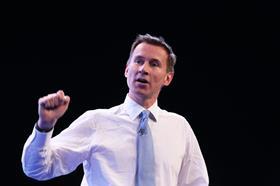 In December, NHS England asked each trust to carry out a self-assessment of its avoidable mortality, as part of the initiative.
However, no national information has been published, and both the Department of Health and NHS Improvement – now leading the avoidable mortality work – have been unable to provide a timetable for it. Several acute trust directors told HSJ there had been no follow up from NHS England's data collection request last year.
Nick Black, professor of health services research at the London School of Hygiene and Tropical Medicine, who has been advising on the work but also criticised the approach, told HSJ: "I get the impression that nothing more has happened [with the self-assessment data] but to my mind that was a good outcome as I really didn't understand the point of the whole exercise.
"The only value I could see in it was to alert trust board members as to the numbers of avoidable deaths probably occurring in their trust as that might act as a spur to do more work on quality and safety. That would be no bad thing but it would not be a metric that you would then monitor."
A tender advertised in autumn last year to run a national programme for estimating the proportion of avoidable deaths in acute hospitals at a national level failed to be awarded. The Healthcare Quality Improvement Partnership, which oversees clinical audits, said "the evaluation panel were unable to recommend contract award".
The DH is now developing an alternative proposal for calculating avoidable mortality data, but a contract to run this is not due to be awarded until January 2017. The approved bidder will then have at least two years to complete its research.
This new proposal, which is currently being peer reviewed, involves examining whether a piloted medical examiner system, scheduled to roll out nationwide in 2018, could help "identify potentially avoidable deaths due to problems in care". The department wants medical examiner reviews to act as a "pre-screen" for hospitals' own mortality reviews. It hopes this approach will "create financial/workload efficiencies by directing [retrospective case record reviews] to deaths which are more likely to identify and learn from problems in health care".
Meanwhile, Kevin Stewart, clinical director of the Royal College of Physicians' clinical effectiveness and evaluation unit, is leading a project for the DH to develop a standardised national model for mortality case record reviews. However, he said: "The college is very keen that this [review] is about learning and improving, it is not about naming and shaming and it is not about being able to determine a percentage of avoidable mortality. Trying to determine a number per hospital of avoidable deaths is a distraction because it is incredibly difficult and we will miss opportunities to learn."
A spokeswoman for the DH declined to comment on the specifics of its tender but said it still intends to publish avoidable deaths data and remains in "discussion with leading clinicians on how to develop this data and publish it as soon as possible". It declined to provide a timeline.
An NHS Improvement spokeswoman confirmed it was "reconsidering" the original research proposal, as tendered by the HQIP, including the potential sample size and methodology. NHSI did not clarify if it still expected to publish trust level data.
In response to our findings, it said: "We are currently working with the DH to determine how best we can learn from, and be transparent about, deaths that may have been caused by problems in care. We will set out more detail as soon as we can."