NHS England chief executive hits back at criticism of the STP process
STPs were never designed to answer national questions on social care funding, says Simon Stevens
Mr Stevens tells Birmingham council chief that STPs are able decide for themselves what share of funding social care receives
NHS England chief executive Simon Stevens has hit back at local government criticism that the 44 sustainability and transformation plans have been forced to take an "NHS first" approach.
He said any judgements on shifting funds from the NHS could and should be made by local STP partners and that the process was "never designed" to address the fall in social care financing.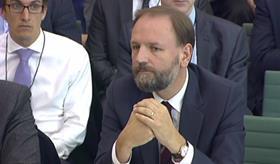 In an exclusive interview with HSJ, Mr Stevens has responded to criticisms levelled by Mark Rogers – Birmingham and Solihull STP lead and city council chief – that the "sort out the NHS first" approach adopted by NHS England and NHS Improvement towards STPs has made it difficult for areas to balance health and care.
Talking about whether social care should receive more funding as part of the STP process, Mr Stevens said: "Those decisions are for the people in Birmingham and Solihull to make, so I would expect they will have made those kind of judgements in the STP, which [Mr Rogers has] been good enough to produce.
"It would be naïve to think, and I know Mark is not naïve, that the process of bringing together partners across Birmingham and Solihull could by itself mean that the NHS was able to cover off all of the funding pressures facing Birmingham city council. That's why they say in the STP, that Mark has chaired, that one of the things they regard as unfinished business is the national policy on social care funding. Well the STP process was never designed to answer that particular question."
He added: "STPs are simply a process for getting the right group of people to think about broader fundamental changes, they're not intended nor would they ever deal with every possible thing that has got to be sorted out in the Nation Health Service let alone the social care."
Earlier this week Birmingham City, Camden and Sutton councils published their "full" STP submissions despite being asked by NHS England and NHS Improvement not to publish until after they have provided feedback.
Camden Council leader Sarah Hayward also criticised the national STP process for its lack of focus on adult social care. She said she had "serious reservations" about the process so far.
Addressing the STP process in general, Mr Stevens said: "The STPs are a way of getting local NHS leaders, clinician, local government leaders and communities to look at the changes within the funding envelope that we currently have at our disposal rather than for each organisation to try and muscle through [and] to think about the shared agenda and to do that on a multi-year basis rather than a hand to mouth, year by year basis".
Exclusive: New capital funding regime for STPs
1

2

Currently reading

Exclusive: Simon Stevens hits back at 'NHS first' criticism