Jeremy Hunt will become the longest serving health secretary on Sunday.
Mr Hunt will clock up 1,342 days in office on 8 May, beating the previous record set by Labour's Alan Milburn, who was health secretary between 1999 and 2003.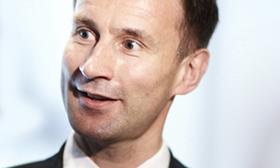 The post of health secretary was created 28 years ago with the appointment of Ken Clarke to the newly established Department of Health. Since that time 12 people have held the post – six from Labour and six from the Conservatives.
Mr Hunt became health secretary on 4 September 2012 in the wake of controversy over the passing of the Health and Social Care Act. He and Mr Milburn have a clear lead over third placed Virginia Bottomley by around 150 days.
Andy Burnham has the shortest tenure of a health secretary, lasting a little over a year in the run-up to the 2010 general election.
The first "minister of health" was appointed in 1919. Mr Hunt currently has the sixth longest tenure as the country's senior health minister – though he will surpass fifth placed Keith Joseph if he is still in post at the end of this month.
In a November 2014 interview with HSJ he said: "I want to do this job for five years and I've told David Cameron [that] as well". Last month he declared: "This is likely to be my last big job in politics."
The three longest serving senior health ministers are Norman Fowler, Aneurin Bevan and Neville Chamberlain – who all served over five years,with Chamberlain holding the post three times.