Health secretary warns trusts risk a poor CQC rating if families are not involved in investigations
Jeremy Hunt says avoidable deaths is a "global healthcare" problem beyond the NHS
No trust will be penalised for reporting an increase in avoidable deaths
Jeremy Hunt has warned hospital trusts that fail to properly involve families in the investigation of avoidable deaths risk receiving a poor inspection rating.
The health secretary told HSJ that facing up to the problem of avoidable deaths in healthcare was one of the most important reforms since took on the role in 2012.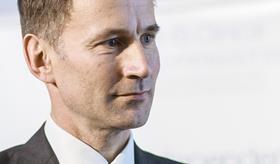 He said: "It's not about knocking the NHS. This is about a problem in global healthcare, we just have too much preventable harm."
A report by the Care Quality Commission last week displayed the widespread inconsistency in death investigations by NHS trusts. In response, the government said trusts would be required to follow a new standardised methodology and publish the number of avoidable deaths at their hospitals.
Mr Hunt said families were key to trust's learning from mistakes: "It's vital that families are properly involved in investigations about a loved one, should they wish to be, and to make sure that happens the CQC will be assessing it as part of the well led domain."
He admitted he had been "hammering away" at the issue for several years. Mr Hunt said plans to publish trust data on avoidable deaths last year were shelved because the response was "essentially meaningless".
He said: "We asked every trust what they thought their numbers of avoidable deaths were. The vast majority of trusts just took the average 3.6 per cent from the Helen Hogan and Nick Black work. What that basically told us was that people don't have a local methodology. It told us the same thing as the CQC report, which is that there is no consistency and shows it is not happening at a local level."
Mr Hunt added: "If you can create a system where the collection method is credible, the data is credible and boards are considering this on a monthly or quarterly basis, you are doing something that is not being done in any country anywhere in the world at the moment so is potentially a huge step."
The health secretary said he would not impose any target on providers or compare trusts' results as part of the reporting of deaths. "What I really want to avoid is people managing their numbers so that they're constantly reducing the number of avoidable deaths in terms of their reported statistics," he said.
"I want to send a very strong signal that no one will get penalised if they report increasing numbers of avoidable deaths because we recognise that is inevitable as reporting processes start to improve and people start to implement a national methodology.
"Over the course of time we may raise our standards, so at the moment there may be deaths that we say were expected but as we get better at understanding care pathways we may understand that a death might have been avoidable."
He said trusts managers who were worried about budgets and resources should welcome the measures because it would be a "massive cost saving".
"Poor care is the most expensive care you can give. This is the way we will learn to eliminate a lot of tragedies but also a lot of cost," Mr Hunt added.
Regulators will not merge before 2020, says Hunt
1

2

Currently reading

Hunt: Trusts face poor CQC rating for ignoring families

3