Bringing together the quality and finance agendas is important to reduce conflict of interests within NHS organisations
In June, when Jeremy Hunt revealed he had asked the Care Quality Commission to include efficiency as one of its key criteria in inspections, questions quickly emerged about how such a setup would sit alongside the existing work of Monitor and the Trust Development Authority.
They are questions which were not entirely resolved a month later, when the secretary of state announced the latter two bodies would come together to form NHS Improvement. Ensuring the work of the quality regulator complements rather than conflicts with that of the financial regulators is not a new issue.
It is one arguably more complicated with the CQC's move to explore efficiency.
Variation issues
During HSJ's exclusive A War on Variation summit – held in November, in association with McKinsey Hospital Institute – there was plenty of opportunity to explore the issue.
Throughout the day, the need to measure and quantify variation in efficiency was recognised as central to its elimination. Yet how national bodies can achieve that while not significantly adding to the burden of regulation – and while working in a constructive, joined-up way – was open to debate, not least from those working within regulation.
Alex Baylis, head of acute policy at the CQC, said while the rating of effective use of resources is not formally an extension of the body's powers, it is a change in approach. "The CQC has statutory responsibilities to take account of value of money and efficiency and economy, but we've slightly stepped back from using them," he told the invited audience of senior healthcare leaders.
"We've been thinking that actually there's a potential risk if we're too purist; if we become separated from the issues that are top of the agenda for day-to-day operational running of hospitals"
"In our comprehensive inspection programme – where we're clearly resetting the baseline of quality across the NHS – we didn't want to get into any debates about: 'Well, it's OK if you take account of the financial situation.' We wanted to have the purest view of quality."
He reported that view had moved on, in parallel with the secretary of state's request for efficiency to be included in the CQC's assessments. "We've been thinking that actually there's a potential risk if we're too purist; if we become separated from the issues that are top of the agenda for day-to-day operational running of hospitals."
From April 2016, the CQC therefore plans to be piloting a new measure on efficient use of resources. It expects that process to last a year, with pilots bolting on to existing inspections planned for 2016-17.
Data plus inspection
Some standalone efficiency inspections are also planned – necessitated, Mr Baylis said, by the skewing of the current inspection schedule towards specialist trusts, where use of resources is harder to assess – though they will not result in published ratings initially.
Once the full programme is launched, not expected to be before 2017, the intention is to publish information regularly with a full ratings inspection every two to three years. "Just like our quality ratings, we would not make judgements based on data alone," Mr Baylis stressed.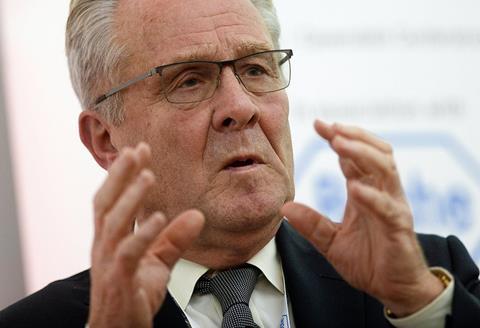 "It would always be data plus inspection to generate a rating." There is current confidence a trust-level rating can be generated, with exploration of whether it might be possible to go down a level to services.
The careful and phased approach to the introduction of the measure is entirely deliberate on the part of the CQC, delegates heard. "This is not easy stuff, and there are risks of going too quickly – if we try and do it under our own steam and invent it all by April, and then NHS Improvement comes into being, or Patrick Carter publishes his reports and we find they don't join up."
Mr Baylis said the hope was much of the data needed to make judgements on efficiency could come from Lord Carter's work, specifically the model hospital metrics currently in development. He also spoke of using existing specialty-level indicators.
Anyone with concerns about the burden of regulation increasing will have noted the caveat he gave, however. "We won't guarantee to be limited to what Lord Carter comes up with as the model hospital," Mr Baylis said. "We won't just automatically take what's handed from the Department of Health. But the more it coincides, obviously the better for everyone."
Quality matters
The idea of a focus distinct but complementary to the work of NHS Improvement was key to how the CQC was approaching the use of resources work, he said. So too was the experience of developing the inspection regime up until this point, though there would be distinct differences with the efficiency rating, he said – namely the simple reality that the CQC does not hold enforcement powers in this sphere.
"We are very clear that we are a quality regulator, and we are looking at use of resources to the extent that it interacts with quality," Mr Baylis emphasised. "So we're not going to be looking at financial management procedures; we're not going to be looking at size of deficit – we want to be really clear that is what Monitor/TDA and external auditors and so on do, that is not what we do.
"We look at use of resources in so far as it affects quality. We're also very keen to effectively mirror the approach we've taken with the quality rating, which is to really focus on the frontline of service delivery, which is where decisions are made that drive costs."
Critical and central
He continued: "There's a lot of debate still that we've got to have with the sector, and with the public, around what do we mean by inadequate and outstanding in this context – how are we defining those and setting the bar? And the rating that we give will not be attached to regulatory powers – we have no enforcement powers to prosecute people for being inefficient.
"So we've got to be in that space of accountability, plus support for improvement. At the moment we don't see the use of resources joining up with something like special measures."
He suggested the development aspect would be closely tied to NHS Improvement, emphasising the CQC believed the join up with the new body "is absolutely critical and central".
"One benefit is a simple increase in transparency and information to the public"
"Our current thinking is that the key way that this could really have an impact is the extent to which we manage to join up our frameworks, particularly with the creation of NHS Improvement; get our information frameworks, our information flows, really as aligned as possible.
"Which might sound a bit bureaucratic, but we think it would actually have an impact in terms of changing behaviour across the system and having a unified view from CQC and NHS Improvement as system leaders for quality and finance."
Much attention will be centred on quite how that unified view develops, but Mr Baylis was clear on the potential benefits. One was a simple increase in transparency and information to the public.
"But we're particularly trying to look at how to bring together the quality and finance agendas," he added. "So that you don't have separate discussions about a chief nurse saying I need more staff for safety, and a finance director saying we've run out of money for extra staff – you can have one discussion across the piece."