National Maternity Review calls for personalised maternity budgets by 2020
Recommendations aim to improve choice and increase community births
Review says a significant increase in midwifery workforce is not required
Women should be given their own budgets to spend on their maternity care, a national review has said, as part of a series of recommendations to increase the proportion of births outside of hospital settings.
The National Maternity Review, published on Tuesday, also calls for new community hubs and for commissioners and providers to establish local areas covering populations of between 500,000 and 1.5 million people.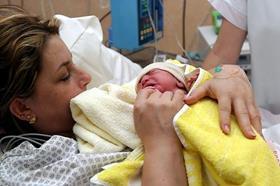 The NHS England commissioned review, chaired by Baroness Cumberlege, had an emphasis on meeting women's choice, which will increase community births and help the NHS save money.
The review said: "If we match services to meet women's choices more clearly, it will result in a significant increase in the proportion of births at home, in a freestanding midwifery unit and in an alongside midwifery unit.
"As well as reflecting what some women want, care in these settings costs less when accompanied by service transformation across the local health economy.
"This would need to be carefully managed by local maternity systems but is essential to meet the coming efficiency challenge."
Sir Cyril Chantler, vice chair of the review, told HSJ the focus of the review was not to "drive women out of hospital" but was about ensuring their choices were acted on.
According to the review, a personal maternity care budget will give women "direct control over which provider receives money for their maternity care".
This would be used with accredited local providers who would be approved by the Care Quality Commission and meet key quality and governance rules in similar contract arrangements to GPs.
The review said this will allow women to choose a wider range of providers including independent midwifery practices. Four pilot sites are expected to launch in September backed by £8m from NHS England over three financial years.
A significant increase in the midwifery workforce is not required to meet the recommendations of the review, according to the report.
James Titcombe, whose son Joshua died as a result of failures at University Hospitals of Morecambe Bay Foundation Trust, stepped down from the maternity review last year because he believed it was failing to listen to families who had experienced poor care.
He said on Monday the recommendation of a personal budget had been suggested by Baroness Cumberlege "within weeks" of the review starting its working, adding: "It was pre-decided that this was what they were going to recommend.
He said: "The push for more community births does concern me because I am not sure we have a robust evidence base that supports this.
"Do women and families really want to be responsible for a budget and commissioning services or do they just want to know that their local service is safe?
"I'm concerned that the push for more community births is being driven for financial reasons. If this is going to happen, the need improve data and transparency around outcomes is hugely important.
"We have to protect women from the agenda of pushing normality but there is no recommendation in the review about that beyond multi-disciplinary training. The report does contain some good recommendations around learning and investigations – but there areas we've long known need to improve. Progress since the Kirkup report [into failings at Morecambe Bay, published last year] has been too slow."
Sir Cyril said the review's recommendations were driven by "what women want".
"The whole purpose of this report is absolutely not to drive women out of hospitals into the community for the sake of sustaining the NHS. The review needs to be read as a whole," he said.
He said it was for "patients to make the choice not doctors", adding they needed to be properly informed.
On the proposal for a personal budget for maternity, Sir Cyril said the recommendation was not pre-determined before the review started. He added that it was part of the Five Year Forward View:
"It was not given to us and told it had to be in the review; that is absolutely not the case," he said. "Was it suggested? Yes it was. It was discussed and some people were keener on it than others… but we worked it through to become a recommendation with very defined terms."
He said the personal budget was a way to help women make their choices stick and any providers being part of the system would need to meet criteria similar to that for GPs.
Women should control maternity care budgets, review says
1

Currently reading

Women should control maternity care budgets, review says

2