NHS England chief executive tells MPs problems with care transfers unlikely to subside in the next few years
Simon Stevens rejects NAO estimate that delayed transfers cost the NHS £820m
Stevens: NHS takeovers of adult social care services will not work everywhere
DH social care chief says there are "unacceptable variations of performance"
Significant problems with discharging older patients from hospital are unlikely to abate in the coming years because of funding pressures on the NHS and councils, Simon Stevens has warned.
At the Commons public accounts committee on Monday, the NHS England chief executive also rejected the National Audit Office's recent estimate that delayed transfers of care cost the NHS £820m. He said the number was closer to around half that figure.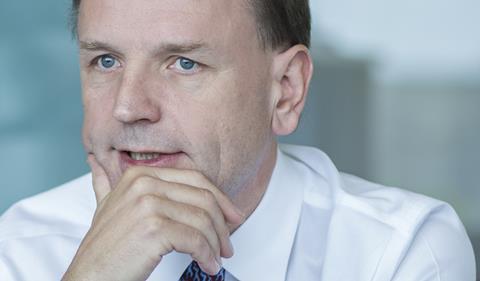 Mr Stevens and the Department of Health's social care chief Jon Rouse were questioned about what MPs viewed as a failure of their organisations to get a grip on the issue, and what they were going to do about it.
Mr Stevens said he was adding a "pessimistic note to the conversation".
"I think we will be battling some very substantial headwinds over the next two, three, four years," he said.
"So I think the honest answer to this, which I know you won't like, is that, actually, I don't think we can guarantee the number [of DTOCs] will be anything like zero over the next three, four, five years, because there are real pressures building in social care which will spill over into the NHS [as well as pressures in the NHS]."
He added: "Looking out over the next two or three years there is likely to be a widening gap between the availability of social care and need of adult social care. That inevitably will show up as delayed discharges and extra pressure on hospitals."
Mr Rouse said there were "unacceptable variations of performance". Stephen Phillips, a Conservative MP on the committee, said the situation was a "national disgrace".
The session followed an NAO report last month that said "the NHS spends around £820m a year treating older patients who no longer need to be there" because of poor discharge arrangements.
The report said 1.15 million bed days were lost to DTOCs in hospitals in 2015, up 31 per cent since 2013, and 54 per cent of hospitals it surveyed said discharge planning was not started soon enough to minimise delays.
Mr Stevens said: "I don't think [the NAO] figure is right… I think the 'book ends' would be net zero to net £640m… let's call it £300m to £400m as a central estimate, it could be north of that. But it's worth going at, there's no doubt about that."
Mr Stevens and Mr Rouse, as well as representatives from the Local Government Association and NHS Improvement, refused invitations to present a precise solution to the issue, stating different areas would require different models.
Mr Stevens said: "I am a huge respecter of the work that has been done in Northumberland, however I doubt the Northumbria model [where the acute provider runs adult care services] is replicable in every part of the country, and I certainly don't think the de facto nationalisation of social care by the NHS would be a model that would worked in every town [and] city across the country.
"We will have different approaches [because] the structure of provision of care, and public financing versus self-pay and so on, are very different in the North East of England than of many other parts of the country."
Mr Rouse told the committee around 20 acute providers would soon be running or were already running adult social services.
There was a consensus that different areas faced different problems, but they often stemmed from a mixture of organisational silos; "tense" relationships between NHS and council organisations; and hospitals or councils failing to adhere to best practice.
MPs raised concerns that there was a problem with accountability because there was no single organisation, or person within an organisation, responsible for DTOCs across an area. Mr Stevens' agreed there was a "systemic problem" and "fragmentation".
Mr Stevens said NHS England's part in reducing DTOCs fell under the purview of Matthew Swindells, the new national director for commissioning operations and information.
Mr Stevens defended the NHS's performance on DTOCs. "Over the last 17 years there has been a 52 per cent increase in emergency hospital admissions and no increase in emergency beds to support those admissions. That is proof that the NHS is getting slicker at its discharge processes. Overall the NHS does a very good job," he said.