Research shows trusts with a higher number of healthcare assistants relative to bed numbers had an increased risk of mortality
Study also found an association between higher numbers of nurses and doctors to patients and a fall in mortality rates
Authors warn NHS policymakers against regarding HCAs as interchangeable with qualified nursing staff
New research into staffing levels within NHS hospitals has suggested a link between a higher proportion of healthcare assistants versus registered nurses employed by trusts and a rise in patient mortality.
The study looked at 137 acute NHS trusts between 2009 and 2011 and also found an association between higher numbers of nurses and doctors per patient and a reduction in mortality.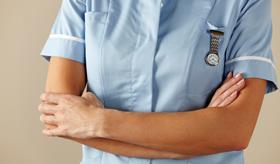 The research comes as the NHS prepares for a new non-registered nursing associate role and a new care hours metric calculated by mixing HCAs and registered nurses together, as recommended by the Carter review.
Professor Peter Griffiths, chair of health services research at Southampton University, which carried out the study, told HSJ that trusts that employed more HCAs relative to the number of beds had an increased risk of mortality. The risk of death decreased by 7 per cent for every additional bed per HCA.
For doctors, the mortality risk increased by 8 per cent for every additional medical bed and by 13 per cent for every additional surgical bed.
In a smaller sample of 31 trusts the study considered the number of patients per ward nurse, and concluded death rates were 20 per cent lower on medical wards with six or fewer patients per nurse compared with wards where there were more than 10 patients per nurse.
On surgical wards the results were similar, with higher registered nurse to patient ratios associated with a 17 per cent lower inpatient death rate.
Professor Griffiths said: "This research clearly shows us that you can't regard registered nurses and health care assistants as interchangeable when it comes to maintaining safety.
"Everything that we know about nurse staffing levels tells us that you need to consider the two groups separately when determining the numbers of staff required on wards.
"Any measure that mixes the two can hide dangerous understaffing of registered nurses. This adds to a growing body of research that shows that dilution of the skill mix in the nursing workforce is associated with worse outcomes for patients."
The research calculated the predicted number of deaths for medical and surgical inpatients, taking account of influential factors, such as age, other underlying conditions, and number of emergency admissions during the previous 12 months.
The registered nurse headcount varied by as much as a factor of four between trusts at the top and bottom of the staffing scale. Even after taking account of all nursing staff, this variation only dropped to a threefold difference between those with the highest and lowest nurse headcounts.
Jane Ball, principal research fellow at the university, said: "When determining the safety of nurse staffing on hospital wards, the level of registered nurse staffing is crucial; hospitals with higher levels of healthcare support workers have higher mortality rates.
"Patients should not be asked to pay the price of receiving care from a less skilled and less educated member of staff, just to make up for the failure of the system to ensure enough registered nurses. Staffing decisions need to be made on the basis of patient safety, not on the basis of finance. Current policies geared towards substituting [these] workers for registered nurses should be reviewed."
Anne Marie Rafferty, professor of nursing policy at King's College London, said: "This is the first study to shed light on the policy of shifting the safe staffing policy decision from nursing to that of the clinical team. It flags the need for caution and the dangers of simply substituting healthcare support staff for qualified nursing staff."