Simon Stevens unveils 10 sites to be part of Healthy New Towns programme
NHS England aims to "design in" health focused features, including fast food free zones near schools and dementia friendly streets
Clinicians, designers and technology experts to shape care provision in each location
NHS England chief executive Simon Stevens will today announce the locations of 10 "healthy new towns" – communities across England where health and wellbeing will be "designed into" their construction.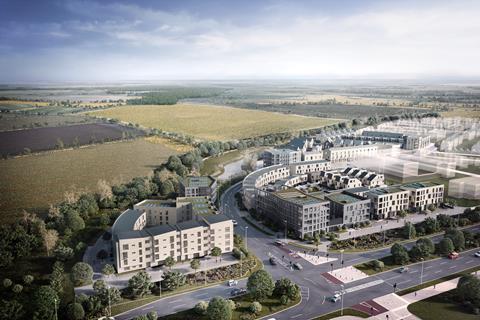 The plan for healthy new town Barton Park in Oxfordshire
The Healthy New Towns programme, a long awaited plank of the Five Year Forward View, will see areas adopt planning policies that could include fast food free zones near schools and dementia friendly streets.
The programme, run in conjunction with Public Health England, aims to join up design of the built environment with health and care services.
NHS England plans to bring in clinicians, designers and technology experts to shape care provision in each location.
The 10 healthy new town sites
Whitehill and Bordon, Hampshire construction of 3,350 new homes
Cranbrook, Devon 8,000 homes will be built
Darlington 2,500 residential units planned
Barking Riverside, east London 10,800 homes
Whyndyke Farm, Fylde, Lancashire 1,400 homes
Halton Lea, Runcorn, Cheshire 800 homes
Bicester, Oxfordshire 393 homes
Northstowe, Cambridgeshire 10,000 homes
Ebbsfleet Garden City, Kent up to 15,000 new homes
Barton Park, Oxford 885 homes
Mr Stevens will use a speech at the Kings Fund in London on Tuesday morning to outline how these sites will be designed in order to maximise residents' health outcomes and prevent conditions such as obesity.
Ideas that could become features of these newly designed health economies include more "digitally enabled" primary care services, green spaces and dementia friendly street design.
Mr Stevens is expected to say: "The much needed push to kick start affordable housing across England creates a golden opportunity for the NHS to help promote health and keep people independent.
"As these new neighbourhoods and towns are built, we'll kick ourselves if in 10 years' time we look back having missed the opportunity to 'design out' the obesogenic environment, and 'design in' health and wellbeing.
"We want children to have places where they want to play with friends and can safely walk or cycle to school, rather than just exercising their fingers on video games.
"We want to see neighbourhoods and adaptable home designs that make it easier for older people to continue to live independently wherever possible.
"And we want new ways of providing new types of digitally enabled local health services that share physical infrastructure and staff with schools and community groups."
A total of 114 bids were received for healthy new town status drawn up by local authorities, housing associations, NHS organisations and housing developers.
NHS England will spend the next six months working with each site to finalise the details of their plans.
It is understood that the national body will fund project managers to oversee each scheme.
PHE national director for health and wellbeing Kevin Fenton said: "Some of the UK's most pressing health challenges, such as obesity, mental health issues, physical inactivity and the needs of an ageing population, can all be influenced by the quality of our built and natural environment… We will continue to support the delivery of high quality, healthy environments."