New digital services platform follows abandoned Care.data project
It will be built with scale and flexibility to "take in all available GP data"
Personal data flowing out of GP surgeries will have to be adequately anonymised for patients who wish to opt-out
Care.data "set back" data sharing arrangements in the health service "for years", says senior source
A new data service capable of recreating key elements of the controversial Care.data project is being developed by the National Information Board and is likely to receive Treasury backing as soon as next month, HSJ has learned.
The new "data services platform" will comprise IT infrastructure and software applications that will "collect, store, process and analyse patient level data" from health and social care providers, including primary care, according to a document seen by HSJ.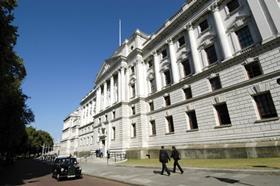 HSJ has learned that NHS Digital has started to show the proposals to potential suppliers. A presentation produced for a market engagement event last month said the aim of the new programme is to "put in place effective services and activities to deliver 'secondary' uses of patient data".
It is intended that the platform will feed into a "customer facing data access and analytics service". This would make data available to customers with "legitimate requests" and would comply with "emerging national data standards for secondary use data" – a reference to the recommendations set out in the Caldicott report published last month.
"What was clear from the event is that Care.data is not dead," a source who attended a presentation told HSJ. "The digital services platform will be built at a scale and flexibility to effectively take in all available GP data."
They added: "So while the digital services platform has not been designed as a replacement for Care.data, it could easily become that. The danger is that in doing so it could fall into exactly the same sort of problems that Care.data did."
The Care.data programme became mired in controversy over how patient identifiable data would be collected and used, and was criticised for lack of clarity. Ministers said in July that NHS England was closing the programme.
Information released after a freedom of information request by HSJ to NHS England shows the Care.data project cost £7.7m.
However, according to a senior source: "The real cost of the Care.data legacy has been the setting back of data sharing arrangements across research and health planning for years."
The outline business case for the new platform has been reviewed by the Department of Health's investment, assurance and approvals team, the presentation document says.
Following sign-off from the health secretary, the programme will go to the Treasury for final approval. According to the document, this is likely to happen as soon as next month.
However, there are concerns that the platform risks reigniting the controversy around Care.data if it enables GP data to be extracted without being anonymised first.
A senior source said the proposed patient opt-outs outlined in the Caldicott report "don't apply to the flow of personal data out of a GP surgery into NHS Digital".
"This is a contentious point and in many ways what caused Care.data so many problems," they said.
HSJ approached NHS Digital about the future evolution of Care.data. NHS Digital declined to comment as the programme was commissioned by NHS England and has now closed.
NHS England declined to comment.