Jeremy Hunt asked Professor Wachter to review the NHS after reading his book, The Digital Doctor
Wachter says doing review is "an amazing once in a lifetime opportunity"
He also focuses on patient safety, quality and health policy issues
Bob Wachter is professor and interim chair of the department of medicine at the University of California, San Francisco.
He was asked by Jeremy Hunt last October if he would carry out a review of the NHS's digital capabilities, an offer Professor Wachter called an "amazing once in a lifetime opportunity".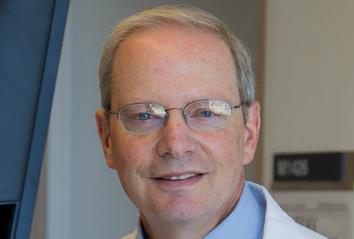 "I'm already a little bit biased. I love it here [in the UK]. I spent six months here on a Fulbright scholarship in 2011 [studying patient safety at Imperial College London], so I have a great affection for the system and the opportunity to help was something I couldn't turn down," he told HSJ.
The health secretary decided to call on Professor Wachter after reading his book, The Digital Doctor, which was published last year to acclaim on both sides of the Atlantic. In the book Professor Wachter said he wanted to give an "honest appraisal of why today's health IT is so problematic" and address a range of broader questions applicable to any health economy.
These include: What should the role of government be in rolling out digital health programmes? Are computers de-humanising the practice of medicine? What will doctors' role be in the future?
He also cogently argues that the "story of healthcare's digital transformation is not really a tech story at heart. Rather, it's a story about clinical medicine, ethics, history, sociology, people, policy, psychology and money".
In one of the most fascinating passages of the book, Professor Wachter describes the intriguing chain of political events which resulted in the US health IT programme's budget growing from $42m (£29m) by an extraordinary 71,000 per cent to $30bn (£21bn).
The book is meticulously researched. He carried out nearly 100 interviews with a wide range of healthcare professionals, including what amounts to a "who's who" of the US health tech industry.
Throughout the book Professor Wachter is careful not to "morph into a hopeless techno-optimist", while at the same time powerfully laying out why technology must be fully embraced to provide the best, safest care at the lowest cost.
Politically, he describes himself "as a pragmatic Democrat, a bit to the left of centre for the United States, which places me slightly to the right of centre in my hometown of San Francisco".
He has published 250 articles and six books in the fields of healthcare quality, patient safety, and health policy.
Exclusive: Government tech review to shake-up clinical leadership
1

2

3

4

Currently reading

Profile: Bob Wachter, the digital doctor and NHS devotee