More than one in 10 NHS trust chief executive posts are not filled on a permanent basis or will shortly be vacated, new analysis by HSJ shows.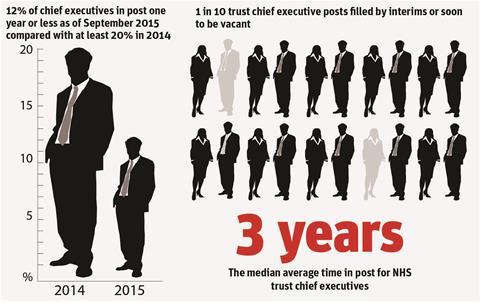 The median average time in post for NHS trust chief executives
Fourteen per cent of trust chief executive roles not filled permanently or will soon be vacant
Twelve per cent of chiefs in post for less than a year; median average tenure is three years
Experts describe HSJ's research as a "wake-up call" for the NHS
NHS Providers say more support needed for up and coming leaders
King's Fund chief executive Chris Ham said the figures were a "wake-up call" to the NHS to improve its talent management and ensure there is a "strong pipeline of leaders for the future".
In 33 trusts the chief executive position is filled on an interim or acting basis, or the permanent postholder has announced they will soon be leaving. This represents 14 per cent of the 239 NHS providers. Among acute trusts only, the figure is 18 per cent.
More on leadership vacancies
The research comes after a number of recent high profile departures. Three chief executives from highly regarded teaching hospitals announced their resignations in the last two months.
Keith McNeil said this week he would be leaving Cambridge University Hospitals Foundation Trust with immediate effect.
Sir Robert Naylor, long serving chief executive of University College London Hospitals FT, will be leaving next March, and Sir Ron Kerr of Guy's and St Thomas' FT will leave next month.
Sir Robert, who chaired the HSJ Future of NHS Leadership inquiry, said in an interview this month that the job of chief executive is "far more difficult" now than it used to be.
He said: "The system has built layer upon layer of bureaucracy and it's become so labyrinthine that you have to be an expert guide to find your way around the system".
NHS Providers chair Dame Gill Morgan said HSJ's research showed the "real and increasing pressures" trust leaders are under.
She added that NHS Providers is working with the NHS Leadership Academy, Monitor and the NHS Trust Development Authority to launch an Aspiring Chief Executives programme next month.
Professor Ham said: "These figures show the continuing pressures in recruiting and retaining chief executives in the NHS. They are a wake-up call to the NHS to improve its talent management and succession planning, and to ensure there is a strong pipeline of leaders for the future. The ability to fill vacancies at flagship trusts like Barts Health, UCLH and Cambridge will be a litmus test."
Mental health trusts have the most stable leadership, with only 6.9 per cent of chief executive roles filled by an interim or someone shortly to depart.
The median average time in post for a chief executive is currently three years. This indicates a slight improvement on findings from analysis last year by HSJ and the King's Fund, which found that the median was 2.5 years. Among acute trusts only, the current median time in post is two years and 10 months.
The spread of interim chief executives or those shortly to leave a permanent post is almost even across the country.
The Midlands and the South have the highest number of interims or imminent departures, with nine in each region. London has eight posts to fill and the North has seven.
Half of all ambulance trusts have chief executives who have been in post for less than a year.
Twelve per cent of all trust chief executives have been in post less than a year.
Dame Gill warned of the impact a lack of stable leadership could have on the NHS.
She said: "The most important influence on behaviours in NHS organisations is the culture and that stems from clear, coherent and powerful leadership.
"There are many strong leaders across all levels of the NHS delivering in an unprecedented austere time, both financially and operationally. [The vacancy] figures continue to be very worrying and show the real and increasing pressures that NHS organisations delivering direct patient care are under. This is the sharp end and we need better and strategic support for the people who take on these tough roles.
"It's easy to criticise and much harder to offer genuine help."
Exclusive: High NHS chief executive vacancy rate a 'wake-up call'
1

Currently reading

Exclusive: High NHS chief executive vacancy rate a 'wake-up call'

2

3