Internal review at University Hospitals of Morecambe Bay uncovers unusual exit payment deal
Jeanette Parkinson, a senior midwife involved in the care failings at the trust, left it after the deal in spring 2012
It appeared to include a significant overpayment and a commitment by the trust not to investigate her performance
A senior midwife at the centre of the Morecambe Bay maternity care scandal received an "irregular" redundancy deal, which also saw her avoid an internal investigation into her performance.
Jeanette Parkinson, the former maternity risk manager at University Hospitals of Morecambe Bay Foundation Trust, "appears to have been significantly overpaid (by as much as 14 months)" under a redundancy agreement when she left in spring 2012, according to a new internal review report obtained by HSJ.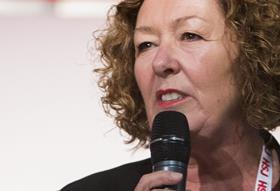 The internal retrospective review took place in July this year.
The summary report of the review seen by HSJ reveals that the unusual deal also saw Ms Parkinson receive more than 470 hours of overtime pay, and included an assurance she would not be investigated in exchange for taking the deal, which was agreed with the trust's then director of human resources and organisational development Roger Wilson.
A paragraph from a compromise agreement between the FT and Ms Parkinson, cited in the summary review report, says: "Following discussions between the employee and the trust, the employee has opted to take early redundancy and as a result the employer has agreed not to commence an internal investigation into the employee's performance as maternity risk manager."
Mr Wilson is the current HR director at Warrington and Halton Hospitals FT.
Ms Parkinson was heavily criticised in the report of the Kirkup inquiry last year, which examined maternity failures leading to the avoidable deaths of at least 11 babies and one mother at Furness General Hospital in Cumbria.
The inquiry found that Ms Parkinson, who dubbed her colleagues "musketeers" in an email, provided "model answers" to her colleagues ahead of an inquest hearing into the death of baby Joshua Titcombe – which the Kirkup inquiry said was "clearly wrong" and led to a "distortion of the process". It also sets out how Ms Parkinson failed to identify "significant failings" in care.
The midwives were later criticised by a coroner for colluding over evidence given, the Kirkup report said.
Morecambe Bay's current chief executive Jackie Daniel, who joined the trust in August 2012, several months after Ms Parkinson's departure, confirmed to HSJ that she had ordered the internal investigation.
She told HSJ: "There are clauses that are inserted [into the compromise and redundancy agreements] which are not normal. It is irregular in terms of the additional money paid and very irregular in terms of no governance process being followed."
She said: "I am desperately disappointed that we have got a midwife here who was not investigated by the trust and that was a massive missed opportunity. We have taken this report through our board to satisfy myself this couldn't happen under current arrangements and I am satisfied that it wouldn't."
She added: "I want to make sure this is followed up. I think it is really important. Jeannette Parkinson clearly played an important role at the time of Joshua Titcombe's death and we know from Joshua's case that the answers have come too late or sometimes never.
"My primary concern is that we do get to the bottom of this and I'd like to think regulators make sure every action that needs to be taken is taken and there is accountability."
Morecambe Bay has shared the new investigation report with the Nursing and Midwifery Council, which is investigating Ms Parkinson for alleged misconduct, and the Care Quality Commission. It has also passed the report to the chief executive of Warrington and Halton Hospitals, as Mr Wilson's current employer.
The internal report into the deal with Ms Parkinson lists several potential concerns about her work, and says: "What is clear is that if there were any tangible and evidence-based concerns about Jeanette Parkinson's performance and conduct in her role, these were never formally documented or looked into."
In relation to governance of the process, it says: "Whilst the exit was classified as a MARS [mutually agreed resignation scheme], it was managed wholly outwith the standard MARS process. There is no evidence of it being approved or discussed through other internal governance processes."
In relation to the "value for money" of the payoff, the report says: "It is evident that the trust's handling of the case at its initial stages, and by its later threatening action, meant that the probability of a constructive or unfair dismissal claim being lodged with an employment tribunal was extremely likely – the compromise agreement ensured that this risk was fully mitigated against.
"It is difficult to see from the paperwork whether the enhanced offer was as a result of the trust making genuine mistakes, being overly generous or through hard negotiation by her representative."
It also says "non-standard" clauses were put in the compromise agreement, described as "non-gagging clauses", which "required participation in external/internal investigations, regulatory interventions and proceedings".
Trust chief threatened with injunction by royal college
1

2

Currently reading

Exclusive: 'Irregular' payoff deal revealed at scandal hit trust