Ian Cumming says Health Education England would have "almost certainly" commissioned more nurse training places for 2016-17
Failure to tackle poor staff retention is biggest risk factor to delivering HEE's planned workforce growth
HEE fears NHS employers' workforce predictions are not in line with new care models
Health Education England would "have almost certainly" commissioned more adult nurse training places if it had not been subject to funding cuts by the Treasury, its chief executive Ian Cumming has told HSJ.
Mr Cumming said HEE had invested more money in nurse training to deliver a 15 per cent increase in university places during the last three years but the Treasury's decision to award only a flat cash settlement to 2020 meant its annual workforce plan had to be hastily rewritten, with training numbers balanced against what it could afford.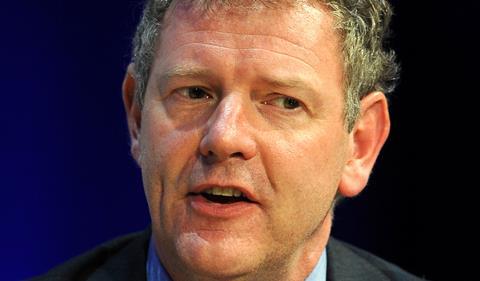 The national workforce plan was published by HEE in December after being delayed. It included a 1.8 per cent increase to adult nurse training places – less than many people in the sector had predicted.
Mr Cumming said the spending review had a "significant impact on every line of the workforce plan". HEE might have commissioned "an extra couple of hundred" adult nurses were it not for the changes made by the chancellor in November.
Mr Cumming said: "If it was more important to train more nurses we could have taken posts out from somewhere else but we made a conscious decision to try and balance this in terms of what we think is needed.
"If we had more money we would have almost certainly commissioned more training posts."
He added that HEE had to live within the resources it was given. "We are still paying for earlier years because nursing is a three year course so the costs keep going up and that's a challenge for us.
"If we had more resource available then we would probably have commissioned more adult nursing places than we are intending to commission [in 2016-17]."
However, senior figures within HEE remain confident that the level of extra nurse training places commissioned over the last three years will be sufficient to meet the future needs of the NHS.
Mr Cumming said HEE had increased the numbers of nurses by 2,575 from 2014 as well as tackling university attrition rates. Despite this, HEE predicts adult nursing numbers will grow by just 9.8 per cent by 2020, the lowest growth of any profession.
He said the biggest barrier to achieving the predicted 80,000 increase in the total NHS workforce by 2020 was a failure by employers to tackle poor retention of existing staff.
He said: "Retention is one of the biggest areas we have got to start focusing the system on in the next year because we can keep training more and more people, but if we are not keeping the people we have already trained we are stacking up problems and costs for the system."
He said "enormous variability" in retention rates between similar NHS providers could not be explained by consistent factors such as pay. "There is something else – what makes a good employer? Is it access to training, leadership and management? Whatever it is, it is making a difference and we want to understand that," he added.
Mr Cumming also warned that predicted workforce demand up to 2020 submitted to HEE by employers did not reflect changes in service provision outlined in the Five Year Forward View.
He said: "In some part of the country we have seen a demand line, looking forward three, four or five years, that reflects a much higher level of activity than is being predicted through the Five Year Forward View assumptions. We need to make sure our workforce assumptions are compliant with the forward view.
He said HEE had no issues with what trusts were demanding now but "what we are querying is their figures for five years' time".
HEE is facing £70m in extra costs this year but Mr Cumming said savings would be made through changes in the way it provided some non-education based services.
He said: "It's about prioritisation around what we do. What we are looking at doing is taking that £70m out of a mixture of running costs, money spent on the current workforce and some of the national programme money we have.
"It's not going to decimate anything but it is going to effectively send quite a clear statement that we are going to have to prioritise producing the nursing and other workforce that people want in the future, which will squeeze our abilities in other areas."
From 2017 HEE will no longer commission training places. The government plans to end the student bursary for nurse and allied health professional training places and switch to a student loan system.
Although this will mean HEE will not be responsible for training places, Mr Cumming said it would retain control through use of the placement tariff fees worth up to £150m, which are paid to providers to cover the costs of students.
He said: "We will continue to fund clinical placements for nurses and AHPs for the minimum numbers we think the NHS needs.
"We will go through a process to determine how we are going to allocate that £150m to ensure we get the right mix of professions across the country, both geographically and by profession. We will use our clinical placement funding to incentivise places in certain parts of the country."