Carter review efficiency drive will fail unless non-clinical staff are engaged, HSJ inquiry finds
This section of the workforce also has key role to play in STPs, report says
Send your feedback, comments and examples of best practice to HSJinquiry@emap.com
Lord Carter's efficiency agenda will not succeed if the NHS fails to engage with non-clinical staff, a major inquiry by HSJ has concluded.
The interim report of the HSJ/Serco Inquiry Into Maximising the Value of the Non-Clinical Workforce also says redesigning health systems under the new sustainability and transformation plans requires greater engagement and co-design with non-clinical staff.
The inquiry was set up to examine how to get the most from this key part of the workforce – and how to give the most back to them in terms of rewarding careers.
In work contributing to the report, Unison's deputy head of health Sara Gorton said: "We've become reticent to talk about the budget spent on non-direct patient care. We've collectively failed to make the case for the value of this work and workforce, when actually it's the way we can help improve productivity".
Healthcare Financial Management Association chief executive Paul Briddock agreed that "a great deal of what's needed to achieve the Carter efficiencies is highly skilled work. If we want to [achieve them] we need to get the value of support and non-clinical staff."
NHS Providers' workforce lead Paul Myatt suggested that the case for the value of this part of the workforce should be made more strongly: "We should say that improving your non-clinical support workforce could make your clinical staff more productive with efficient administration – getting the right level and quality of staff to support your clinicians to do great jobs."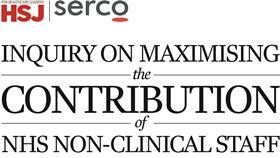 On the role of non-clinical staff in STPs, Ms Gorton added: "The Carter recommendations need skills to drive technological innovation, like e-rostering and proper booking systems.
"Those kind of functions don't need either to be small nor England-wide: we'll need to find a balance. That begs the question of how we get buy-in to participate over wider footprints, and give staff the security they need…
"The ability to move some money around in the new STP footprints may free things up and allow bolder decisions. Perhaps there'll be new conversations with staff, where employers may say 'we can't say where you work in five years' time, but we know we'll need your skills, so we will guarantee you work if you'll commit to stay with us'?"
Mobilising the NHS's hidden army
1

2

3

4

Currently reading

HSJ inquiry: Carter review needs non-clinical staff on board to succeed

5

6

7