National Audit Office says existing system of workforce planning is not value for money
NHS training 19 per cent fewer nurses in 2014-15 than it was in 2004-05
NAO says trust workforce predictions influenced by financial efficiency savings
NHS trusts' workforce predictions are driven by the imperative to save money rather than clinical need according to the National Audit Office which has estimated a gap of 50,000 clinical staff in the NHS.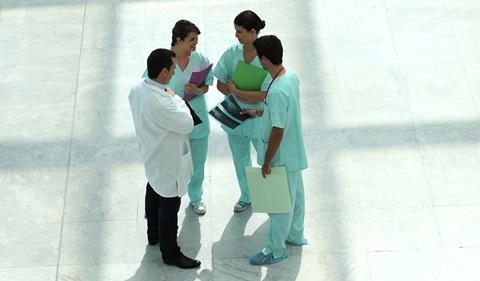 Workforce
In a report on managing the clinical supply of staff to the healthcare system, the NAO found arrangements for managing the supply of clinical staff do not represent value for money.
It said workforce plans prepared by trusts for Monitor and the NHS Trust Development Authority had estimated £1bn of savings in recent years, which had consistently not been delivered.
It said: "By focusing on efficiency targets when balancing financial sustainability and service requirements, trusts risk understating their true staff needs. This in turn could result in Health Education England commissioning too few places to train new staff. At trust level, it may also lead to gaps in staffing or additional costs from using more expensive temporary staff to address shortfalls."
The NAO said the NHS was training 3,106 fewer nurses in 2014-15 compared with 2004-05 – a 19 per cent decrease – and that overall in 2014 there was a reported staffing shortfall of around 5.9 per cent, the equivalent of around 50,000 clinical staff.
According to HEE, nurse training places have increased since 2014 by 2,575 but this is still lower than in 2004-05. It is widely accepted that demand and patient acuity has increased during this time.
The NAO said "a lack of sufficiently reliable or comprehensive data" undermined HEE's commissioning decisions.
The report also said NHS trusts' predictions failed to take account of how services were expected to change, meaning they were "unlikely to provide a reliable forecast of long term staffing needs".
The office concluded that the arrangements for managing the supply of clinical staff numbers in the NHS was fragmented and increased the risk of duplication and incoherence.
It called for a more coordinated and proactive approach, which it said could result in efficiencies for the NHS: "Across the health system as a whole, there are shortcomings in how the supply of clinical staff is managed, in terms of both planning the future workforce and meeting the current demand for staff.
"The process for developing the national long term workforce plan could be made more robust. Local plans are unlikely to be a reliable forecast of staffing need, and national interventions to reflect priorities and emerging pressures are constrained and have been minor to date. Overall, there is limited assurance that the number and type of training places being commissioned is appropriate."
Howard Catton, policy director at the Royal College of Nursing, said: "We have been concerned for some time that the bottom-up predictions and assessments for demands for staff are overwhelmingly influenced by financial considerations and it is for that reason you need a stronger top down control of workforce planning.
"This is clearly not saying we should abandon the current workforce planning system and my worry is that what we might be seeing in light of the spending review, the announcement on bursaries and HEE's admission that it would have commissioned more nurse places, is a shift to a more free market approach to planning the workforce. One risk of that is that you will have even a greater disconnect between those deciding on the numbers of places and where the shortages might be in the future."
He added: "The responsibility for security of supply of the workforce is ultimately a political one."
Richard Taunt, director of policy at the Health Foundation, said: "We agree with the NAO that a more coordinated approach to managing the supply of staff is essential. The 25 per cent growth above inflation in temporary and agency costs between 2013-14 and 2014-15 being just one example of how the system is not working for patients or taxpayers.
"Thinking needs to be coordinated across all of NHS workforce policy, including staff planning, but also regulation, education and training, pay, and how staff are motivated and led."