New law would prevent whistleblowers being discriminated against by potential employers
Move follows recommendation by Sir Robert Francis's review, which found evidence of whistleblowers being "blacklisted"
The law would allow applicants to seek compensation from trusts for discriminatory employment processes
It could become illegal for NHS trusts to discriminate against former whistleblowers seeking employment, under changes to the law proposed by the government.
In a consultation released today, Jeremy Hunt has set out plans to allow NHS workers to seek compensation if they believe they have been turned down for a job because a potential employer suspects they may have blown the whistle in a previous role.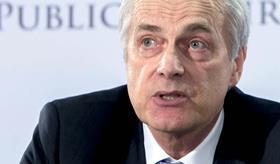 The proposed amendment to the Small, Business, Enterprise and Employment Act 2015 is a response to a key recommendation from Sir Robert Francis' Freedom to Speak Up review. The consultation document said Sir Robert's inquiry "received evidence that blacklisting of whistleblowers is taking place in the NHS", with people struggling to find employment in the service after making protected disclosures about patient safety.
Currently the law only allows whistleblowers to act against the current or former employers where they made the patient safety allegation.
The changes would allow people to seek compensation for discriminatory action from a potential new employer, provided the complaint is lodged with an employee tribunal within three months of the alleged discrimination. It will not matter whether the applicant blew the whistle or not.
There will be no minimum or maximum limit to how much money could be awarded to a successful claimant and the amendments would allow a tribunal to force a trust to "take specified steps, within a set time period, to remove or reduce the adverse effect on the complainant".
The applicant could also take a trust to the County or High court for breach of statutory duty to seek compensation for "injured feelings" and to obtain a court order to "restrain or prevent discriminatory conduct". They cannot seek compensation from both an employment tribunal and a court.
In a bid to "develop a culture of openness", the law will also hold an NHS trust "responsible" for any discrimination towards an applicant shown by its employees or an employment agency, unless the trust could show it took "all reasonable steps" to prevent them acting in a discriminatory way.
The announcement was made the day before the health secretary is due to speak at a conference on learning from deaths, hosted by NHS Improvement. In his speech, Mr Hunt is expected to discuss the implementation of hospitals reporting on avoidable deaths.
The whistleblowing consultation closes on 12 May.