In the 24 hours since the letter was made public, most of the 20 chief executives named as co-signatories have distanced themselves from the message. In the letter Sir David urged the government to do "all it deemed necessary" to bring an end to the junior doctors' contract dispute.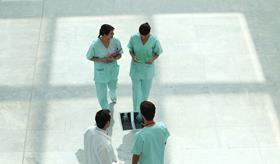 Health secretary Jeremy Hunt referred to the list of names during his statement to Parliament on Thursday announcing the government's intention to impose a contract on trainee medics.
HSJ has established how the letter was produced and why some chief executives have publicly distanced themselves and even asked for their names to be removed.
The process had its origins with an advisory group of chief executives established by Sir David as part of his efforts to achieve a negotiated settlement with the British Medical Association.
On Tuesday Sir David presented the final offer to the BMA in a bid to end the strike, and this deal had the support of all of the 20 chief executives HSJ has been able to contact. The BMA walked away from talks with no agreement.
On Wednesday, as thousands of junior doctors were on strike, an email was sent to chief executives from Sir David's office at 11.39am asking chief executives to sign up to a statement of support for the offer. It said the "request is urgent and he intends to make the inclusion unless you indicate otherwise by 3pm this afternoon".
HSJ understands the chief executives had not seen Sir David's full letter and were unaware their support for the final offer to the BMA would be linked to his call for the government to take action. Sir David advised the government to do "whatever it deems necessary" to "end uncertainty for the service".
One chief executive said Sir David had "gone a step beyond what we had agreed to".
The letter was published after 9am on Thursday and within hours Claire Murdoch, chief executive of Central and North West London Foundation Trust, publicly said she did not support contract imposition and wanted her name removed. Her name was taken off the published list.
A second chief executive, Andrew Foster at Wrighton, Wigan and Leigh FT, also said he did not support imposition. He told HSJ today: "What David produced at the very start of this week seemed like a very sensible compromise agreement on Saturday working. We were therefore asked to sign up to a statement supporting that. I think that is fair and reasonable.
"That is not saying that it needs to be imposed on somebody else."
Dalton: BMA was 'not serious about reaching a compromise'
1

2

3

Currently reading

Revealed: How Dalton's contract letter unravelled

4

5