Health Education England agrees to voluntarily close loophole in whistleblowing protection
Court ruled earlier this year that HEE was outside employment law
The loophole sparked concern among junior doctors during contract dispute
Health Education England has said it will extend whistleblowing protection to junior doctors in the NHS following concerns trainee medics were at risk of detrimental treatment.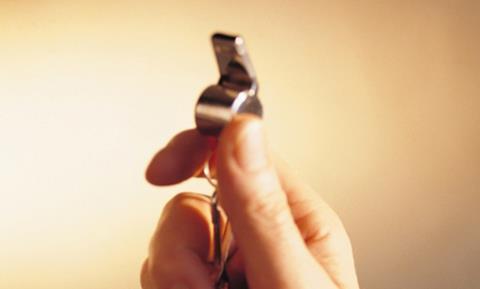 In April, HSJ reported on the risk that junior doctors faced no protection against being victimised by trusts or HEE as a result of whistleblowing after a court ruled HEE's relationship with junior doctors was outside the scope of employment law.
Earlier this year, junior doctor Chris Day was barred by an employment tribunal from including HEE in his claim against Lewisham and Greenwich Trust for unfair dismissal. An appeal ruling said Parliament had deliberately excluded junior doctors' relationship with HEE from protection under employment law, adding that Dr Day was not an employee or worker of HEE.
The case caused widespread concern among junior doctors during the contract dispute with the government. Experts told HSJ in April the decision by the employment tribunal had created a loophole in protection for doctors.
HEE says it has never acted against a whistleblower, but said on its website on Tuesday that it would voluntarily include a clause in new contracts for trainee doctors that would grant them protection.
A HEE spokeswoman confirmed on Wednesday that the change would allow HEE to be taken to the High Court by junior doctors who believe they were victimised for whistleblowing. They would still be barred from taking a case against HEE to an employment tribunal.
The changes have been made following Dr Day's case and talks between the British Medical Association and HEE.
HEE medical director Professor Wendy Reid said: "HEE has always supported doctors in training to speak up if they have concerns about patient safety. Although we are not an employer of junior doctors, we recognise that we have significant influence over their careers.
"We do not believe that HEE has caused any detriment towards whistleblowing trainees. However, we wish to remove any perception that might prevent patient safety or other issues being raised.
"The contractual rights we have provided are voluntary on HEE and are a very significant increase in trainees' rights. We feel that it is absolutely right that we make this change today and remove a potential barrier to junior doctors raising legitimate concerns about the quality and safety of patient care and other matters."
BMA junior doctors committee chair Ellen McCourt said: "This is a significant win for junior doctors and patients, as it will ensure that junior doctors have full legal protection when speaking out."
HEE is a prescribed person under the Public Interest Disclosure Act. It will contact employers to ensure the new clause is added to contracts and publicised.
This story was updated on 10 August at 1.40pm to reflect new information from HEE that doctors would be able to take a case to the High Court not an employment tribunal.