BMA to strike for 24 hours next Wednesday after contract talks fail
Doctors will walk out from 8am but will now provide emergency care
BMA says good progress was made with Sir David Dalton but government refused to recognise Saturdays as different to weekdays
Junior doctors will strike for 24 hours next week but the British Medical Association has said they will provide emergency care instead of the full walkout that had been threatened.
The decision to go ahead with the strike comes despite efforts to reach a negotiated agreement last week and new concessions from the government on unsocial hours and weekend working.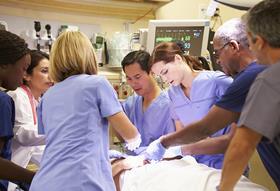 In a leaked email following the announcement Johan Malawana, chair of the BMA junior doctors committee, told its members: "Despite all our best efforts, and hours of talks facilitated by Acas, we still haven't been able to reach agreement with NHS Employers and the Department of Health on the new contract for junior doctors.
"In the most recent talks with Sir David Dalton, we made some good progress, but the government has made clear, yet again, that they are not prepared to address issues you have made clear are critical to you. In particular, they have shown no movement at all in recognising Saturday as being different to a normal working day."
The Department of Health today published a letter from Sir David Dalton to health secretary Jeremy Hunt setting out where the BMA has been prepared to reach agreement and where the talks failed.
Sir David said the BMA was not prepared to negotiate over weekend and weekday unsocial hours as had been previously agreed and if that remained the case then he said there was "no opportunity for a negotiated settlement."
He also said that junior doctors were "expressing a high level of discontent which has been fermenting for some years" and recommended a commission be established to review the "longer-standing concerns with recommendations to all parties for action which can improve the welfare and morale of trainees."
The industrial action will go ahead on Wednesday for 24 hours from 8am, but emergency care will be provided. Previously, junior doctors had planned to strike for 12 hours including emergency care.
Dr Malawana said: "We believe that this balances the need to demonstrate our determination to the government whilst minimising disruption to patients."
He said the government was putting "politics before patients" and risked "souring relations with an entire generation of junior doctors".
The BMA is also planning rallies in London on 6 February and 7 February.
Last week six royal colleges and 15 medical associations urged both sides to reach a negotiated settlement before "long term damage" was done to the NHS.
In response, Dr Malawana said: "To those who would urge junior doctors to resolve their concerns in any way rather than industrial action, I ask: 'What else would you have us do?'
"We have talked in good faith with the government over the past few months, but have seen no willingness on their part to move on a core issue for junior doctors up and down the country."
A spokesman for Acas said: "Acas conciliation talks adjourned on Friday. We're ready to help if the sides involved in the junior doctors' dispute wish to use our services again."
Danny Mortimer, chief executive, NHS Employers said: "It is extremely disappointing that the BMA have announced more strike action when progress has already been made and significant offers have been made to the BMA to address the concerns raised by junior doctors.
"Patients should not suffer as a result of a pay dispute so I urge the BMA to put patients first by choosing to engage in meaningful negotiation, rather than strike.
"We all want a contract that is fair and safe for doctors and patients. The BMA must now, as we have, demonstrate that they are willing to seek compromise."
A Department of Health spokesperson said: "It is regrettable that the BMA is proceeding with further unnecessary industrial action. Sir David Dalton's published summary of negotiations shows how close we are to agreeing a deal and demonstrates our strong desire to resolve the key substantive issue of pay for unsocial hours – as both parties agreed to do with ACAS back in November. As Sir David recommends, we want to settle this so that we can improve the standard of care for patients at weekends."