Mark Hackett appointed as improvement director at Torbay and South Devon and East Kent FTs
East Kent FT is in financial special measures
Torbay and South Devon FT needs to make savings equal to 6 per cent of its income
Former trust chief executive Mark Hackett has been appointed as an improvement director at NHS Improvement, it has emerged.
Mr Hackett, who unexpectedly quit his role at University Hospitals of North Midlands Trust last year, has been drafted in to help Torbay and South Devon Foundation Trust and East Kent Hospitals University FT on behalf of NHS Improvement.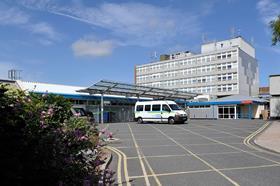 East Kent University FT, which is in financial special measures, is expecting to record a £23m deficit for 2016-17.
It was given a £600,000 surplus control total for 2016-17, despite giving "clear evidence" it expected to reach a £12m deficit - according to its board papers.
However the trust has been given a £6.5m deficit control total for 2017-18, with Mr Hackett - appointed as its financial improvement director by NHS Improvement - helping to devise a financial recovery plan.
Elements of the plan include reducing agency costs and cost of supplies of services, lower use of waiting list work, back office and clinical support consolidation, improving productivity, and effective vacancy management.
By April the trust had delivered £16.9m of savings, against a target of £17.7m. The £532m turnover trust needs to make £30m of savings in 2017-18 (5.6 per cent).
The trust received a £7.3m cash loan in March, taking total borrowing in 2016-17 to £22.8m.
Mr Hackett is expected to remain in his position with the trust as part of the special measures programme.
Meanwhile South Devon's February board papers reveal Mr Hackett has been supporting the trust's finance team in drawing up its largest ever savings plan, delivery of which has been called "mission critical" by chief executive Mairead McAlinden.
Mr Hackett took up his position with the trust in January on behalf of NHS Improvement. In March he was appointed by the trust as an improvement director.
The trust must make savings worth £20.3m this year, which is equal to 6.2 per cent of its 2015-16 income (£325.1m), its May board papers said.
It must also contribute towards "system-wide changes" that it is hoped will save the county's health economy £20.4m.
The trust, which has been given a control total of a £4.7m surplus for 2017-18, provides acute, community and adult social care services in south Devon.
In an update to the trust's board last week, Ms McAlinden said delivering the 2017-18 financial plan was "mission critical".
The largest proportion of savings from the trust's internal programme comes from implementing its new care model.
This involves the closure four community hospitals and 32 acute inpatient beds at Torbay Hospital, with a focus on supporting more people at home and reducing unnecessary hospital admissions.
The trust hopes this will save nearly £7.5m in 2017-18.
Other work streams have been set up to identify savings in areas including:
adult social care (£2m);
procurement, asset utilisation, and property management (£1.8m);
nursing (£1.7m); and
administration and management (£1.1m).
The trust also aims to make £7.5m of savings by achieving the "2 per cent general efficiency target".
A new "financial improvement scrutiny committee" has been set up to monitor the planning and delivery of the savings plan. It will report directly to the trust's board.
The committee comprises Ms McAlinden, non-executive director David Allen and Mr Hackett, who is described as a turnaround director.
For 2016-17 the trust is set to report a deficit of £11m, while it made cost improvement programme savings of £11.4m – which was £2.4m behind plan.
However, £5.7m of these savings were non-recurrent.
The trust did not respond to HSJ's request for comment.
Elsewhere in Devon, Plymouth Hospitals Trust has started its own £40m financial improvement programme, while Northern, Eastern, and Western Devon Clinical Commissioning Group finished 2016-17 with a cumulative deficit of £120.5m.
South Devon and Torbay CCG is forecasting a £7.9m deficit in 2016-17.
Devon's health chiefs have been warned they will become subject to the new "capped expenditure process" by NHS England and NHS Improvement unless they achieve their financial targets.
Affordable operating plans were due to be submitted by the region last Friday.
Source
Trusts' board papers