Torbay and South Devon FT launches procurement to set up a strategic estates partnership
Twenty five year contract worth around £100m
Partnership is central to trust's future clinical model
An integrated foundation trust is looking to partner with a private company for up to 25 years in a bid to unlock capital funding for its future estates plans.
Torbay and South Devon Foundation Trust has launched a procurement to set up a strategic estates partnership, with a contract value estimated at £100m.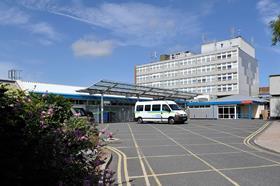 The trust, which provides acute, community and adult social care services, wants the partnership to come up with "imaginative solutions" to securing funding and agreeing affordable rental models to help it move services out of hospital and into the community.
Lesley Darke, director of estates and commercial development, told HSJ the trust's current estates portfolio was built for a healthcare model that has worked in the last 50 years, but would not be suitable for the next 50 years.
Amid a tightening of the NHS's capital budget in recent years, a growing number of trusts are turning to strategic estates partnerships, including Yeovil FT, University Hospital Southampton FT and two trusts in London.
Torbay and South Devon FT wants the strategic estates partnership, which will be set up as a joint venture, to focus on three areas:
creating health and wellbeing centres that will be co-located with GP practices;
developing community hubs that contain inpatient beds; and
improving space at the trust's acute hospital including in its emergency department, theatres and wards.
Earlier this year, the trust closed two community hospitals, inpatient services at two more and 32 acute beds – and instead invested in more staff and intermediate care teams as part of its plans to move services out of hospitals.
Ms Darke said: "We're looking for a relationship with a partner who will give us support in terms of planning, development, expertise, and can help with capital funding.
"The new model has changed the shape of the buildings we need for the future.
"We need investment and support to enable us to develop these centres in partnership with GPs, the voluntary sector and the local authority."
Among the objectives of the partnership will be the creation of "affordable rental models" for new GP facilities to enable a "shift from a GP practice ownership model to a secure rental model as required".
Ms Darke said newly trained GPs do not want or cannot afford to become GP partners or move into old buildings that are not fit for purpose.
Capital funding will also be sought through the partnership to develop the trust's ED and imaging service, while there are also plans for a new urgent care centre co-located with the ED.
"Our most critical risk on the risk register is infrastructure and lack of capital," Ms Darke said.
"We can't continue to be in an environment whereby there isn't sufficient capital."
The trust also wants the partnership to provide property management expertise to include acquisition, marketing and disposal, and rationalising leasehold.
According to the procurement documents, the £416m budget trust owns property worth £80m.
Only a handful of strategic estates partnership have been formally established in the NHS, with HSJ reporting in January that there were six partnerships across England.
Last week, it emerged two trusts in the North West had scrapped their procurement for a strategic estates partnership due to concerns over the preferred bidder's link to Grenfell Tower.
Source
Procurement documents; information provided to HSJ