United Lincolnshire chief executive says trust wants to reopen unit 24/7 but suggested it could lose services
One option is for Grantham to become an "urgent care centre-plus"
Trust announced "temporary" night time A&E closure was being extended until "at least" February
The chief executive of the trust that runs Grantham hospital has said it intends to reintroduce 24/7 opening for urgent care at the site, but suggested its emergency unit could be reduced to an "urgent care centre-plus".
United Lincolnshire Hospitals Trust chief executive Jan Sobieraj said no decisions had been taken and a full consultation would follow publication of the area's sustainability and transformation plan in the "coming weeks".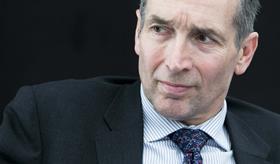 However, he told HSJ one of the "possibilities [for] sustaining the 24/7 service that people know and want" for the 100 bed Grantham hospital, was to look at what he called an "'urgent care centre-plus… for the Grantham area".
His comments follow the trust announcing this month that it was extending a "temporary" night time closure of Grantham's A&E, which receives 29,000 attendees a year, between 6.30pm and 9am until "at least February" because of staffing shortages.
Mr Sobieraj said the difference between what is offered at Grantham now, compared to the long term urgent care proposal for the site, would be part of the debate about the Lincolnshire STP.
He said: "It's about 24/7 access to urgent care services. What happens to patients when they get behind the front door, we have to determine. There might be a 24/7 service there, but it is all about what level of severity they can deal with, and that's the bit we are going to look at across the patch."
A&E and urgent care services would be brought together at its other hospitals, Lincoln and the Pilgrim, under the proposal, he said.
The temporary closure at Grantham began in August for an initial three months. But the trust said it has not been able to recruit sufficient staff to return to full opening hours and extended the arrangement. Campaigners are concerned the move could become permanent.
A paper discussed at the trust's November board meeting said the closure had "no significant effect" on attendances at its other A&Es" and "overall there have been no serious issues that we are aware of".
Despite the reported minimal impact of the closure – however, it is too early to give a full assessment – Mr Sobieraj said the trust intended to return to full opening hours as soon as staffing levels were up to appropriate levels, and the move was "what patients want".
He said: "We are absolutely intent on reopening [Grantham A&E]. That is our desire. It's tight, it always is tight, but we think we can manage in terms of patient safety [if can get to our threshold of safe staffing levels]."
The trust says it needs 43 posts – 15 consultants and 28 middle grades – to staff its three A&Es, but it had 26 at the end of July, which is why the night time closure at Grantham was implemented.
The move was endorsed by the Royal College of Emergency Medicine, which said that while "no one wants closed emergency departments" the trust had taken "appropriate measures to temporarily remedy the situation locally and ensure safety".