United Lincolnshire extends Grantham night time A&E closure by at least three months
Trust says it understands patient concerns about move
System has been "coping" with closure and other A&Es report "small" number of additional admissions
Grantham and District Hospital's emergency department will remain closed overnight for at least another three months, United Lincolnshire Hospitals Trust has announced.
The decision, rubber stamped by the trust's board today, comes a year after the trust originally announced the "temporary" night time closure of Grantham's A&E for a three month trial period to help "maintain safe services across Lincolnshire".
The department will remain open seven days a week between 8am to 6.30pm. Another review of the arrangement is scheduled for November.
Trust medical director Neill Hepburn said: "We understand the frustrations and concerns of Grantham people and that they want A&E to be open 24/7, but we will only do this once we can safely staff all our A&Es at least eight weeks into the future. We are fully committed to opening the A&E but only when it is safe to do so."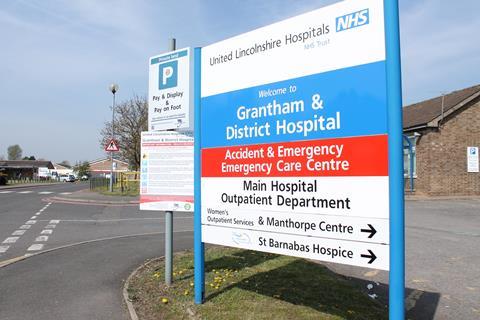 A trust statement added: "Our own data shows the healthcare system is still coping with the overnight closure of Grantham A&E and that on the whole the impact has been small in the number of attendances and admissions at other A&Es."
Lincolnshire health leaders are also waiting on an announcement from Jeremy Hunt on whether or not the Grantham overnight closure will be investigated by the Independent Reconfiguration Panel. The announcement was expected earlier this year but has been delayed.
The trust, which went back into special measures in April, said the "difficult decision" to shut Grantham A&E overnight was "due to a severe shortage of middle grade doctors" at its two larger A&Es in Lincoln and Boston.
It said progress had been made on recruitment but not enough to reopen Grantham. "Our recruitment drive will continue. We are still advertising in the UK and abroad and are working with UK and international recruitment agencies to ensure we recruit enough doctors," the statement said.
The trust also said it would "explore [with commissioners] an interim service model for a 24 hour emergency/out of hours service" before the next review.
The news follows trust chiefs at Shrewsbury and Telford warning yesterday the Princess Royal Hospital could be be forced to "temporarily" shut its A&E department overnight because of staffing shortages.
Other hospitals that have implemented overnight closures include Weston General Hospital, County Hospital in Stafford, and Chorley and South Ribble Hospital.