United Lincolnshire Hospitals extends Grantham A&E overnight closure for at least three more months
Trust insists it plans to fully reopen A&E when "safe" to do so
Independent Reconfiguration Panel due to announce if it will investigate trust's decision
The overnight closure of a struggling emergency unit has been extended for at least a further three months.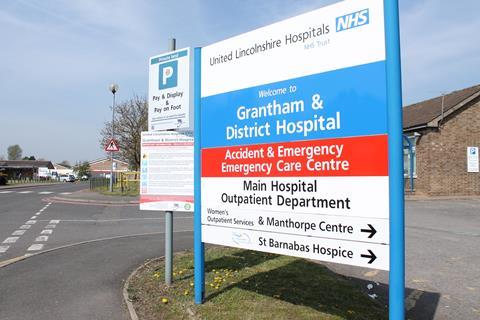 United Lincolnshire Hospitals Trust first closed Grantham and District Hospital's accident and emergency department at night last August. The trust's board has decided to extend the restricted hours arrangement until August 2017 at the earliest.
The trust has always maintained the reduction in opening hours is a "temporary" move taken because staffing shortages meant the small emergency department was unsafe.
However, the trust's chief executive told HSJ last autumn that while he wants to reintroduce 24/7 opening times, the unit could be reduced to an "urgent care centre-plus".
Interim medical director Neill Hepburn said today: "[The arrangement] will be reviewed again in three months time. We understand the frustrations and concerns of Grantham people and that they want A&E to be open 24/7 but we will only do this once we can safely staff all our A&Es at least eight weeks into the future. We are fully committed to opening A&E but only when it is safe to do so."
Dr Hepburn said the trust had "18.6 middle grade [doctors] for all our A&Es at Lincoln, Pilgrim and Grantham which is below the required number of 21 to have all three departments open 24/7".
"Before we can reopen Grantham A&E, we have agreed with our commissioners and our regulators, the minimum number required of 21 for all three departments open 24/7 consistently and safely. Even if we had 21 doctors, this is still below our ideal number of 28," he added.
The decision to extend the restricted hours comes with the Department of Health's independent reconfiguration panel set to announce whether or not it will carry out a full investigation of the trust's decision after purdah. A decision had been expected in March but it was delayed by local election and now general election purdah periods.
The news also follows the troubled trust last month becoming the second of the original 11 trusts placed in special measures in 2013 to be put back in the programme, after being rated inadequate.
The Care Quality Commission rated the trust good on how caring staff were at the trust but inspectors found "significant concerns in medical care and outpatients at Pilgrim Hospital".
It also raised significant concerns about the "safety of patient care, leadership and managerial oversight" across the trust, which runs three hospitals.
A trust statement said: "Reducing the opening hours of Grantham A&E has allowed us to provide better patient care in Lincoln, where the most serious cases from across the county go to.
"There is a national shortage of A&E doctors, and [the trust] is very much affected by this. We are overly reliant on short and long term agency doctors to fill staff rotas. Though not ideal, this was the safest option for the provision of emergency care for the people of Lincolnshire including those who live in the Grantham and district area."