United Lincolnshire given enforcement notices after hospital fires
Department of Health approves £9.5m loan
Trust warns it faces a £5.1m shortfall this year with capital projects at risk
A trust forecasting a £75m deficit this year has warned capital projects, including bolstering cybersecurity, could be delayed by a £5.1m shortfall in its fire safety funding.
United Lincolnshire Hospitals Trust must improve emergency exits and procedures for "serious and imminent danger" after recent fires at Lincoln County Hospital, Grantham Hospital and Pilgrim Hospital in Boston.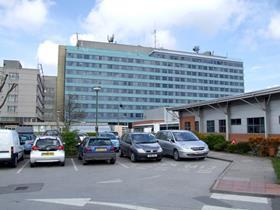 The trust, which is in financial and quality special measures, has submitted a business case requesting external support of £40.6m from NHS Improvement to fund major safety improvements over the next three financial years.
However, it is facing a £5.1m shortfall in this year's fire safety work after the Department of Health approved a loan of only £9.5m. The trust will contribute £2.1m to this year's £16.7m cost, which left it needing an extra £14.6m.
Capital projects, including tightening cybersecurity in the wake of the WannaCry attack, could be delayed unless additional funding is secured.
Estates director Paul Boocock said: "To fund the urgent work to improve fire safety, we may have to postpone work in other areas."
Last week, HSJ revealed the trust was working with KPMG after forecasting a £75m deficit for 2017-18, which it described as "one of the biggest financial challenges facing the NHS".
In October 2016, patients had to be moved after an electrical fire in the control room of a ward at Lincoln County Hospital. An electrical fire also forced the closure of the emergency department at Grantham Hospital in April 2016. In March, patients and staff were evacuated from Pilgrim Hospital after a fire thought to have been started by a microwave.
Enforcement notices relating to Lincoln County Hospital and Pilgrim Hospital were served by Lincolnshire Fire and Rescue Service. The buildings are not considered unsafe but key requirements, including fire detection, maintenance and training must be addressed within three months to two years.
Checks were also carried out on the high rise building at Pilgrim Hospital after the Grenfell Tower fire, but the building has non-flammable insulation and was considered "low risk".
The trust anticipates that £46.7m will be required to meet the requirements of the enforcement notices through to 2019-20.
The trust said NHS Improvement had advised there "can be no guarantees about when and how much the DH will fund above the £9.5m already confirmed".
In a report to the trust board this month, deputy chief executive Kevin Turner said: "In the absence of any additional resources, the trust board needs to consider how to reprioritise our expenditure plans to ensure that our deficit plan of £75m is not undermined."
The trust outlined the pressure on its ageing estate and facilities in July, highlighting a story by HSJ last October that revealed that providers face costs of £775m to deal with high risk backlog maintenance.
It said £205m would be required to eradicate the "very significant level of backlog maintenance" across its estate.
"It can quite clearly be seen the challenge ULHT faces in meeting requirements across the range of core safety issues against the backdrop of limited funding and an estate that has not been subject to sufficient levels of renewal and replacement," the report added.
The HSJ Strategic Estates Forum is taking place on 20 March at BMA House in London. This is a high-level strategic forum that brings together estates directors, STP estates leads and trust board leaders responsible for the estates function who are developing strategic plans for their organisations and local health economies. The focus of the forum is on issues such as the delivery vehicle for the Naylor Report, the creation of Project Phoenix, advice on establishing SEPs (Strategic Estates Partnerships) and assessing progress of STP estates plans. Sir Robert Naylor, National Adviser, NHS Property and Estates; David Williams, Director General of Finance, Department of Health and Simon Corben, Head of Profession, NHS Improvement are all confirmed as keynote speakers for the event. Register your interest for this free-to-attend event on our website: https://strategicestates.hsj.co.uk/register-your-interest-attending
Source
Trust board papers; trust statement
Source date
September 2017