One of the NHS's longest serving and highest profile chief executives has deferred his stepping-down after his organisation failed to appoint a successor.
Sir Robert Naylor, who announced his resignation in September after 15 years leading University College London Hospitals Foundation Trust, will be staying on after the board was unable to find a replacement.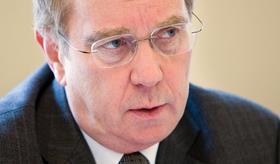 Interviews for his replacement were to take place last November and Sir Robert was due to step down in March this year, but HSJ understands he will now stay until December.
UCLH is based in central London and is one of the world's most prestigious teaching and research hospitals, but like all specialist trusts in England it has been hit by reduced funding for specialised services in recent years.
HSJ understands two overseas candidates were interviewed but neither offered the job, and that the chief executive of another London trust was sounded out about the role.
Sir Robert joined the trust in 2000, leaving Heart of England FT in the west Midlands.
At the announcement of his departure said he would be pursuing "new career opportunities".
He has overseen significant expansion of UCLH and its services since being appointed.
Source
Information provided to HSJ
Source date
27 January 2016