STRUCTURE: Doctors have been accused of distributing 'inaccurate' information as part of their campaign to retain emergency and high risk general surgery at a major teaching hospital in Manchester.
A group of clinicians at University Hospital of South Manchester Foundation Trust this week issued legal proceedings against a landmark reconfiguration decision in Greater Manchester.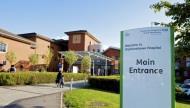 In July it was confirmed that the trust's Wythenshawe Hospital would not be a "specialist" site following the Healthier Together consultation process.
Although the FT's board has accepted the decision, a group of doctors have formed a private company, called Keep Wythenshawe Special, to pursue a judicial review.
An email sent out by the group last week has led to accusations of dirty tricks from health leaders in the region.
The subject line of the email, which was sent by vascular surgeon Mark Welch, read: "Urgent: Message from Wythenshawe Hospital Consultant body – Potential loss of significant services at Wythenshawe Hospital, including A&E".
The Healthier Together decision means emergency services at Wythenshawe will be provided as part of a network with Manchester Royal Infirmary, run by Central Manchester Hospitals FT.
While emergency and high risk general surgery will only be performed at CMFT, it has been stated throughout the process that no hospital in the region will lose its A&E department.
Dr Nigel Guest, chief clinical officer of Trafford Clinical Commissioning Group, who approved the proposals alongside 11 other CCG leaders, said in a statement about the legal proceedings: "We are… concerned about an email that was sent recently to GPs in Manchester and Trafford which was full of inaccuracies and will no doubt cause unnecessary anxiety and upset for patients.
"We remain clear as stated on page 77 of the Healthier Together report that no A&E will close and every A&E will remain open 24/7."
The CCGs have set aside £500,000 to fight the case, while the legal process has already delayed the implementation of Healthier Together by several weeks.
A spokesman for Keep Wythenshawe Special told HSJ: "We meant the loss of A&E services and not A&E itself."
In papers lodged with the High Court, it has argued the proposals will have the "unintended consequence of downgrading our accident and emergency department".
Lawyers for the group said a judge is expected to consider early next month whether to allow the case to proceed to a full hearing, which would be heard before the end of the year.
Under the plans, the "specialist" hospital within each "single service" will have consultants based in A&E for at least 16 hours a day, compared with 12 hours a day in the remaining "local" sites.
UHSM provides a wide range of other specialist services, including vascular and plastic surgery, and leaders have insisted these will be unaffected by Healthier Together.
Source
Information provided to HSJ