Dame Julie Moore has announced her retirement from the newly merged University Hospitals Birmingham Foundation Trust.
In an email to staff, seen by HSJ, the trust chief executive said she had intended to retire two years earlier but stayed on until the merger between UHB and Heart of England FT was complete.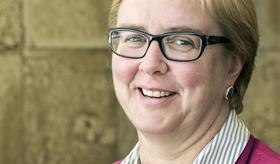 The merger, completed on 1 April, created a £1.6bn turnover trust. It runs most general acute services across Birmingham and Solihull.
Dame Julie said the process of bringing the organisations together had "not been straightforward" and took "longer than anybody anticipated".
"It is now time that I hand on the reins of this single organisation to a successor," she said.
"I agreed to stay on to bring together our hospital services across Birmingham and Solihull, as I believe the resulting benefits will be so significant."
Since joining the NHS as a graduate nurse, Dame Julie has become one of the most renowned chief executives in the health service.
She was made a dame in 2012 and in 2013 was named among the 100 most powerful women in the UK by Radio 4's Woman's Hour.
She has frequently been named in HSJ's top chief executives list and the HSJ100.
She was also lead for Birmingham and Solihull sustainability and transformation partnership.
In her message, Dame Julie said: "I have been interim chief executive of HEFT since October 2015.
"I have been immensely impressed by the staff here who have worked tirelessly under difficult conditions to deliver, and support the delivery of, quality patient care in sometimes less than adequate buildings, with poor equipment.
"The improvement in operational performance has been nothing short of miraculous down to the professionalism, skills and commitment of all staff and I would like to thank you for this.
"Our patients are now getting a much better service than they did. One of the issues I have been keen to resolve is to secure the rebuild and redevelopments of the hospitals' estate and equipment. The first phase of this will commence later this year."
In a letter to staff, trust chair Jacqui Smith said: "Despite the frustrations of the transaction process, Julie ensured that she and the team maintained a clear focus on what was best for our patients and the communities we serve. This sums Julie up."
She added: "Some of you will have experiencied her frustration with any bureaucracy or regulation which appear to get in the way of that aim."
Her leaving date has not been finalised but is likely to be towards the end of the summer.
Dame Gill Morgan, chair of NHS Providers, described Dame Julie as one of the "star of her generation".
"She has been an influential voice for common sense and for the NHS, never afraid to speak out when things were wrong.
"She took her clinical learning and experiences as a former nurse to focus on what matters to patients.
"She will be missed locally and nationally and we wish her well in her future endeavours."
Article updated on 19 April at 5.41pm to include quote from NHS Providers and at 6.49pm to include quote from Jacqui Smith.