NHS Improvement says "specific cohesion and credibility" of UHB leadership critical to HEFT's recovery
Merger will see expansion and shifting of some acute services across Birmingham and Solihull
Sub-specialist procedures to move from Queen Elizabeth Hospital to Heartlands Hospital's "hybrid theatre" with more sharing of consultants across sites
Millions to be spent on replacing HEFT's ageing IT infrastructure
A merger to create one of the country's largest acute trusts will lead to some specialist services being shifted between hospitals, an NHS Improvement report reveals.
The Competition and Markets Authority cleared the merger of University Hospitals Birmingham and Heart of England foundation trusts last month.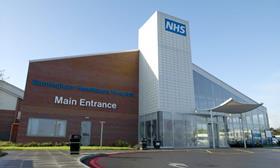 If completed, the combined trust would have a turnover of more than £1.4bn – more than any other that currently exists – and provide the majority of acute services for Birmingham and Solihull across four main hospitals.
The merger is not expected to lead to a reduction in beds – both trusts are running at full capacity – or a major reconfiguration.
However, an NHSI submission to the CMA supporting the merger said it would lead to reorganisation and possible expansion of some services.
These included:
Endoscopic ultrasonography for gastroenterology would be provided from one hospital and inpatient and day care endoscopy would be expanded to come from Good Hope Hospital, Solihull, and Heartlands Hospital, Birmingham.
Shifting some complex sub-specialist surgery from UHB's Queen Elizabeth Hospital to Heartlands' "hybrid theatre", specifically open aneurysm surgery and lower limb revascularisation. The hybrid theatre is one of three in the country but is only used four days a week because HEFT has failed to attract enough interventionist radiologists.
Expanding a community based liver services offered to UHB patients to HEFT patients.
Planned improvement in 30 services, likely to include urology and ear, nose and throat, by sharing staff across multiple hospitals and making better use of expensive equipment.
NHSI's strong support for the merger was crucial in the CMA's decision, with the regulator arguing that any loss of competition was outweighed by improvements in patient care.
Since 2012, HEFT has been the subject of series of largely unsuccessful interventions to correct financial and governance failings.
In October 2015, UHB chief executive Dame Julie Moore and chair Jacqui Smith were appointed to oversee both trusts. In September 2016, the trusts revealed plans to merge.
NHSI said this intervention and new leadership had already led to a marked improvement at HEFT that would be solidified by a merger.
Not proceeding with a merger was "not sustainable" and would lead to the withdrawal of UHB's leadership, the regulator said.
"Withdrawing the University Hospitals Birmingham leadership from Heart of England would risk harming the progress that has been made at Heart of England. It could also jeopardise the future viability of the trust's operational and financial performance, which would have a detrimental effect on patients and other providers in the local health system, including University Hospitals Birmingham," the report said.
The regulator's evidence showed joint recruitment had been one of the biggest early gains from the trusts working together, with HEFT able to benefit from UHB's strong reputation to fill workforce gaps.
Prior to the joint leadership, HEFT had only 2.6 whole time equivalent interventionist radiologists, despite being funded to employ seven. Since then, two additional consultants have been employed, attracted by access to specialist training at UHB.
Improving HEFT's ageing IT system is also likely to be a key early benefit of the merger. NHSI said because of "a lack of coherent IT strategy", the trust needed to spend £19m on replacing essential infrastructure.
UHB is one of 23 "global digital exemplar" trusts and has recently picked HEFT as its "fast follower" buddy, essentially agreeing to help it become more digitally advanced using the same IT systems.
A final decision on the merger, scheduled for November, has yet to be made and requires the approval of both boards.
Source
NHS Improvement submission to CMA
Source date
September 2017