University Hospitals Birmingham to get £162 in capital and working capital loans linked to merger
£87m to go on a new ambulatory care and diagnostics centre at Heartlands Hospital
ITFF raises concerns about risk of merger to high-performing UHB
One of the country's largest trusts will received £162m of central loans to help support the balance sheet following its merger with its neighbour.
The Department of Health and Social Care's independent trust financing facility board approved two loans for University Hospitals Birmingham Hospitals Foundation Trust in January, ahead of its merger with Heart of England FT last month.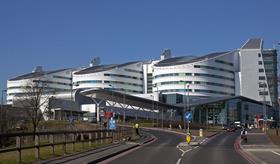 This includes £75m in working capital and £87m of capital "to support the proposed merger of UHB and HEFT".
The capital will be used to fund the building of a new ambulatory care and diagnostics centre at Heartlands Hospital, while the revenue will be available if needed over the next three years to "support liquidity".
The ITTF board said: "It was recognised at the time that liquidity of the combined organisation was challenged as a result of both UHB's historical balance sheet incorporating a large PFI, and HEFT's need to fund deficits in recent years".
The merger in April brought together two similarly sized organisations: UHB, the relatively high performing specialist trust, and HEFT, a more general acute trust. HEFT has struggled for years with finance, performance and governance issues.
The merged trust, which retained UHB's name, has an income of £1.5bn and provides most of the acute services in Birmingham and Solihull.
It also has around £500m of PFI debt, associated with the rebuild at Queen Elizabeth Hospital, and needs major capital investment at three former HEFT hospitals.
The ITFF board said more capital would likely be needed in future to fund this work and it remained concerned about the risks of the merger to UHB.
It said: "Even though UHB does not appear to have underestimated the changing risks around the NHS economy, and in particular the potential "double jeopardy" of losing STF contributions through failing to meet control totals."
"Although the merger appears to be well-founded with a strong and stable management team at UHB already effectively running HEFT, it is unclear what real benefits accrue to UHB to mitigate the risks as part of the process, and the committee believes that there could well be a need for additional funding to support liquidity of the merged trust at some point."
The new trust will also have to go forward without longstanding chief executive Dame Julie Moore, who announced her retirement two weeks after the merger went through.
Speaking ahead of the merger in March, Dame Julie told HSJ while the trust had not received the central funding windfalls associated with some other mergers, she was confident there would be central capital support in future.