Children's heart services review finds outcomes at University Hospitals Bristol "broadly comparable" with other centres
However, parents sometimes "let down", nursing staff "regularly under pressure" and managers took "unnecessarily defensive position"
NHS England to publish plans for reconfigured congenital heart disease services next week
PATIENT SAFETY: The independent review of children's cardiac services in Bristol has found "no evidence" of a repeat of the failures identified in the public inquiry of 1998-2001.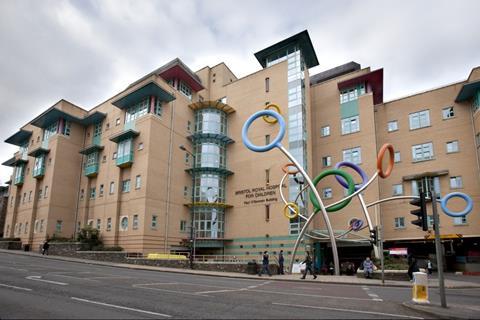 Bristol Children's Hospital
However, the review said there was evidence that on a number of occasions "care was less good and that parents were let down".
The independent review was commissioned in June 2014 by Sir Bruce Keogh, NHS England's medical director, after he was contacted by a number of families whose children had died in recent years following cardiac surgery at University Hospitals Bristol Foundation Trust.
The review, chaired by Eleanor Gray QC, was contacted by 237 families whose children were treated at the Bristol Royal Hospital for Children. It also analysed over 6,000 documents and had 50 meetings with staff.
According to the report, published on Thursday: "The review reached the firm conclusion that there was no evidence to suggest that there were failures in care and treatment of the nature that were identified in the Bristol public inquiry of 1998-2001."
The public inquiry found that 30-35 more children under 12 months died between 1991 and 1995 than would have been expected at a "typical unit".
The latest review, which looked at the Bristol service between March 2010 and July 2014, concluded that outcomes of care were "broadly comparable with those of other centres caring for children with congenital heart disease".
"There was evidence that children and families were well looked after and were satisfied with the care their children received," it said.
However, it also found evidence that "on a number of occasions, the care was less good and that parents were let down".
The review found that on ward 32 – the principal focus of the investigation – that prior to an inspection by the Care Quality Commission in 2012, nursing staff were "regularly under pressure, both in terms of the numbers available and the range of skills needed".
"This led on occasions to less than good care for children and poor communication with parents and families," it said.
The review also concluded that "on occasions" the hospital's senior managers "failed adequately to understand and respond effectively" to parents' concerns, and took an "unnecessarily defensive position in the face of the CQC's observations".
"This led to a deeply regrettable breakdown in communication which culminated in the commissioning of this review," it added.
The review makes 32 recommendations requiring action by the trust, NHS England and the Department of Health.
NHS England said it would set out plans for reconfiguring congenital heart disease services next week.
Sir Bruce said: "I was deeply moved by the experiences of the families in Bristol. We wanted to ensure that those families were given a voice and that their concerns were fully investigated. The inquiry has been both independent and thorough.
"Quality is not just about survival, it is about many other things. These families' experiences tell a very powerful story not just for Bristol but for the rest of the NHS in terms of compassion and how we treat people in their darkest moments."
Robert Woolley, University Hospitals Bristol's chief executive, said the trust fully accepted the findings and welcomed their publication "as a way to learn from mistakes".
"We are deeply sorry for the things we got wrong - for when our care fell below acceptable standards, for not supporting some families as well as we could have and for not always learning adequately from our mistakes," he added.