Second case of a child failed by Bristol Royal Children's Hospital
Luke Jenkins died after major heart surgery in 2012 but was let down by staff, according to PHSO
Ombudsman report contradicts findings of a review commissioned by NHS England
A new investigation into the death of a boy at Bristol Royal Hospital for Children has exposed serious failures in his care and contradicts an earlier NHS England commissioned review.
The investigation by the Parliamentary and Health Service Ombudsman found such serious failures by doctors and nurses in the care of seven year old Luke Jenkins that it amounted to service failure. The PHSO report said hospital management was guilty of maladministration for failing to be open and honest with his parents.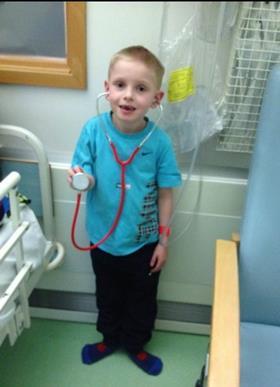 Public comments by University Hospitals Bristol Foundation Trust chief executive Robert Woolley following Luke's inquest in 2013 were described by the PHSO as "insensitive as they implied that there had been no shortcomings in Luke's care and the chief executive knew that this was not the case".
This PHSO review is the second to cast doubt on the findings of a review led by Eleanor Grey QC and Sir Ian Kennedy into the standard of care for children following heart surgery at the hospital.
In October, HSJ highlighted the case of four year old Sean Turner, who was cared for on the same ward as Luke and died a few weeks before. The PHSO report into Sean's care said failings in his care and treatment were also so severe they amounted to service failure.
The trust has accepted failings in Luke's care and apologised to his parents. However, it is continuing to contest a clinical negligence claim in the High Court.
Luke died in April 2012 from a major bleed in his heart. After surgery a week earlier, he was discharged from intensive care after 30 hours to the 16-bed ward 32. The trust had no high dependency beds at the time and relied on intensive care outreach nurses, who failed to visit Luke for more than 48 hours after his surgery.
Ms Grey's report said experts who reviewed Luke's case did not have concerns about the overall medical oversight of his care.
However, a team of experts for the PHSO said doctors failed Luke so badly that the errors constituted a breach of General Medical Council guidelines. It also said there was "overarching failure" by nursing staff that fell below standards in the Nursing and Midwifery Council code of conduct.
The PHSO said its findings were based on experts comparing "what should have happened with what did happen".
It concluded: "Luke's follow up care fell so short of applicable standards and established good practice that it amounted to a service failure."
The PHSO said its investigation also identified new failings in Luke's care that "have not been consistently or definitively established by the trust in any of their investigations or in any of their responses to [Luke's parents, Stephen Jenkins and Faye Valentine].
"Examples of some of the most serious failings that the trust did not identify include: nurses not recognising and acting on signs of Luke's deterioration; and doctors' failure to admit Luke to [intensive care] on 2 April following his haemothorax [collection of blood in his chest]. The fact that Mr Jenkins and Ms Valentine were not told of these serious failings in Luke's care means that, on balance, we cannot say the trust provided them with completely evidence based open and honest responses.
"We find that this was so far below the applicable standards as to be maladministration."
Care failings identified by the PHSO
Doctors failed to recognise and act on clinical signs that Luke was deteriorating and had a haemothorax. The next day he was recorded as having a heart rate of 130bpm between 10am and 7pm but no action was taken.
Doctors failed to ensure surgical reviews took place and a request to scan Luke's heart was not acted on.
Doctors failed to adjust Luke's blood thinning medication in line with trust guidelines. On a number of occasions Luke was "under-coagulated and over-coagulated but doctors did not make the necessary adjustments".
Medics failed to do a daily blood count for three days and when they did, it showed signs of "significant blood loss and a serious deterioration", which was recognised but not acted on.
Doctors notes were satisfactory overall but the PHSO found untimed entries, undocumented instructions and "untimely, inaccurate retrospective entries".
Nurses and outreach nurses "consistently" failed to recognise Luke's deterioration following surgery.
A nurse failed to take appropriate action when Luke had a cardiac arrest. They left his bedside rather than pressing an emergency buzzer.
When Luke was eventually reviewed by outreach nurses he showed signs of serious deterioration but this was not recognised or acted on.
Poor record keeping by nurses general, which in some cases prevented the PHSO assessing whether care was appropriate.
Mr Jenkins told HSJ he had a recording from a child death review meeting in November 2013 where a senior intensive care consultant told Luke's parents there were "modifiable" factors in Luke's case that meant his death was avoidable. The PHSO said it was unable to determine if this was the case.
Mr Jenkins said the report by Ms Grey had initially called Luke "Sean" and had his wrong date of death. He said there were a number of examples where the PHSO report had gone into more detail and reached conclusions the earlier report did not mention.
He said: "The PHSO report vindicates what we have been saying all along and the hospital has battled us. This is the first time we have been able to say someone has listened to us. The review by Eleanor Grey just tried to muddy the waters.
"The PHSO report is much more detailed and specific. It said the nursing care fell below the NMC standards but the review for NHS England makes no mention of that. It said the nurse on the morning Luke had a cardiac arrest acted correctly but the PHSO says she should have pressed the alarm rather than leaving us to hold his oxygen.
"Our story has been the same all the way through but the hospital's story has changed throughout. They are still dragging us through the courts today."
Responses to the PHSO report
Trust medical director Sean O'Kelly said he was "deeply sorry" for the failings in Luke's care "and that we compounded his family's grief by giving incorrect and incomplete information in response to their subsequent complaint. We have written directly to Luke's parents to apologise for this."
He said the trust had made significant improvements since 2012 but declined to comment on the ongoing legal action.
Ms Grey said she had not seen the PHSO report but said: "The cases of Sean and Luke have now received multiple reviews. In reviewing complex cases, experts must make judgements based on their professional expertise, and it is not unusual for expert views to differ in some elements or in their emphases, while agreeing on other substantive issues."
She accepted there were errors in the initial version of her report about Luke for which she apologised and these were corrected.
She said her review of the hospital "was critical of the nursing care and also its oversight on the ward in the period prior to the Care Quality Commission inspection in 2012."
An NHS England spokeswoman said: "These issues have now been independently investigated both by Eleanor Grey QC with support from Sir Ian Kennedy, and by the PHSO. All lessons from both reports must be learned, and it is critical for the hospital to reflect on all findings from both reviews to ensure all action necessary is taken."
Source
Report and information provided to HSJ