Trust investigating past cases of brain surgeon after RCS review
Review of five cases, including three patient deaths, says failings were "not so serious" as to cause patient harm
Trust faulted for "significant shortcomings" in its internal investigations
A trust investigation into patient deaths or harm following brain surgery was hampered by "significant shortcomings", a royal college review has found.
The Royal College of Surgeons was invited to review five operations by neurosurgeon Hussien El-Maghraby, employed by University Hospitals Coventry and Warwickshire Trust, after safety concerns were raised.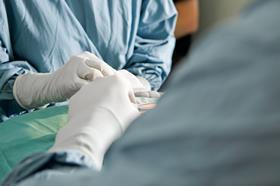 Despite three of the cases involving patients who subsequently died and identifying multiple failures of care, the RCS concluded the shortcomings were "not so serious as to have jeopardised patient safety".
However, according to a paper presented to the trust's board, the trust is now reviewing all serious incidents and mortality reviews associated with Mr Maghraby.
Responding to HSJ, the trust said 10 additional cases were now under review.
The RCS review also raised broader concerns about communication within the neurosurgery team and the trust's internal investigations.
The board paper said: "The reviewers also found that the cases illustrated significant shortcomings with the root cause analysis process, as three out of the five cases resulted in criticism of the accuracy of the investigation findings and in each case the level of input from the relevant consultant surgeons was inadequate."
Mr Maghraby has been restricted from performing two types of procedures since September, following the RCS's initial inspections.
The review found Mr Maghraby was "technically competent" but lacked insight into "adverse outcomes" and "overcommitted" to procedures.
"This had led him to rush some aspects of his practice and could have led him to not devoting enough time to putting things right when they had gone wrong," a letter from the RCS to the trust said.
In the letter, the RCS said the surgeon carried out operations he had not been appointed to undertake and for which he had received no formal training.
The college was disappointed by Mr Maghraby's "unwillingness to accept shortcomings in his management and to accept that his assessment of the patient's outcome was at odds with objective records and other witness accounts".
Within the team, colleagues had not communicated well or worked as a cohesive unit, with Mr Maghraby lacking the support of surgical colleagues.
These colleagues felt excluded from the internal reviews of Mr Maghraby's conduct, claiming these had taken place without their knowledge and were often inaccurate.
The RCS found: "Exclusion from the process had ultimately led to an overall lack of confidence in it, with surgeons feeling that their actions had not been fairly represented by it. Alleged inaccurate investigation findings had also aggravated tensions between individuals, as they had been left with an incomplete picture of events. The review team thought that a more inclusive and transparent process could have avoided some inaccurate conclusions and unnecessary tensions."
The trust has agreed to the review's recommendations including further training for Mr Maghraby before he recommences some surgical procedures, reviewing its root cause analysis process and improving working relationships within the neurosurgery team.
The trust said in a statement that it amended its RCA policy prior to the RCS report "and it is being further reviewed to take into account the RCS's recommendations".
Mr Maghraby, who is still employed by the trust, was approached for comment.
The five cases examined by the RCS
After undergoing an elective brain operation, a patient deteriorated and became unconscious with internal bleeding. The registrar contacted the surgeon at home but was told the surgeon was unwell and unable to attend. After two operations, one involving the registrar and one with another surgeon, the patient died.
A patient underwent an anterior and posterior spinal fixation and subsequently died of pulmonary embolus.
A patient underwent surgery to remove brain tumour. While recovering, a CT scan revealed internal bleeding, precipitating two further operations. Plans were in place for "supportive" care but no further steps were taken. The patient died without further interventions.
The surgeon undertook a lumbar decompression and fusion procedure on a patient at a private hospital, who presented at the trust a week later with an infection. The surgeon undertook further operations and an emergency CT scan subsequently revealed compression of the brain stem. The patient made a slow, incomplete recovery.
A patient with a known recurrent brain abscess was discharged home before being readmitted three days later. Surgery was carried out and the patient made a good recovery.