EMRAD imaging system led to a backlog of 30,000 reports at University Hospitals of Leicester Trust
Clinicians say the system does not work and frequently breaks down
GE Healthcare, the contractor for the consortium of eight trusts, has apologised
The rollout of a multimillion pound vanguard project imaging system to University Hospitals Leicester Trust led to a 30,000 backlog in image reports, HSJ has learned.
There are ongoing problems with the East Midlands Radiology system, known as EMRAD, a £30m IT project developed by a consortium of trusts in the region to deliver integrated imaging across hospital sites.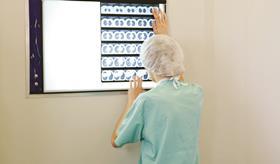 The system, which is an NHS England vanguard, has been widely praised but clinicians using EMRAD have told HSJ that the system has caused widespread problems and frequently breaks down.
Minutes of a meeting of East Leicestershire and Rutland Clinical Commissioning Group last month revealed that the introduction of the system, provided by GE Healthcare, caused delays and problems with image reporting earlier this year.
The minutes said: "It was noted [UHL] reported that the backlog for plain film reporting doubled following the implementation of the EMRAD functionalities from 15,000 to 30,000."
This backlog followed the introduction of EMRAD at UHL in September last year and was eliminated in May. However, problems remain with clinicians raising concerns over how the system was working. Senior managers accepted EMRAD was "making work difficult on a day to day basis", according to an email to staff from UHL chief information officer John Clarke.
The latest trust risk register highlighted ongoing concerns for patient safety. It said: "If system faults attributed to EMRAD are not expediently resolved, we will continue to expose patients to the risk of harm."
According to the risk register, the trust has been outsourcing some activity "to make up for reduced service efficiency" and has had conference calls with GE Healthcare to fix the problems.
Radiologists and doctors from across the region told HSJ they had been forced on some occasions to send images on DVDs via taxi to get specialist advice and at other times had to base advice on written reports because they were unable to see the images from another hospital.
GE Healthcare, which was chosen as the main contractor for EMRAD in 2014, has apologised for the problems and sent engineers into all hospitals to try to improve the situation.
Earlier this year, Kettering General Hospital revealed that at least one serious incident and 68 other incidences of "potential harm" had been caused by "significant delays" in the reviewing and reporting of thousands of diagnostic patient scans after it implemented the EMRAD system last year.
A UHL spokeswoman said no incidents of harm had been linked to the backlog caused by EMRAD.
She added: "The trust went live with EMRAD in September 2016. Early issues, not uncommon when introducing a new system, created a backlog in cross sectional imaging and plain film which was reduced to below that of the previous system by May 2017. Thanks in no small part to the hard work and commitment of the radiologists and reporting radiographers employed by UHL."
EMRAD is a consortium of eight acute trusts: Chesterfield Royal Hospital Foundation Trust; Sherwood Forest Hospitals FT; Nottingham University Hospitals Trust; United Lincolnshire Hospitals Trust; University Hospitals of Leicester Trust; Northampton General Hospital Trust; Kettering General Hospital Trust; and Burton Hospitals FT.
Source
Information provided to HSJ