University Hospitals of Leicester chief executive John Adler says trust cannot fill all 500 nurse vacancies
Chief nurse Julie Smith says decisions on using nursing associates would be made ward by ward
No plan to substitute wholesale nursing associates for registered nurses
The chief executive of a major Midlands hospital trust has said it must use new roles such as nursing associates to tackle hundreds of nurse vacancies.
In a regular briefing email sent to all staff last month, seen by HSJ, John Adler, chief executive of the University Hospitals of Leicester Trust, said it had 500 registered nurse vacancies and little hope of filling them all.
He also said more than half of the trust's 440 nurses from EU countries have left with 207 remaining.
Chief nurse Julie Smith told HSJ that the trust may look to replace some registered nurse posts with a nursing associate but the decisions would be taken on a ward by ward basis and there was no intention to reduce the overall nurse establishment or save money.
In the email, dated 22 September, Mr Adler said: "We are struggling to recruit registered nurses. More nurses are leaving the Nursing and Midwifery Council register than joining and the NHS will experience the impact of retirement over the next five years with around 38,000 nurses leaving the profession.
"Brexit is already having an effect as well. At the peak, we had around 440 EU nurses and only 207 of them remain with us.
"We currently have around 500 nurse vacancies and we know that we will not be able to fill all those roles. We cannot keep doing what we have always done and need to look at the diversity of roles we need to make up a ward team, such as nursing associate roles.
"This is not to undermine the need for registered nurses but there just are not enough of them and every trust is finding this a challenge."
A pie chart in the email (see below) showed a "registered nurse vacancies" section being replaced by a "registered professions" section, suggesting the trust will deal with vacancies by using nursing associates and other professional groups.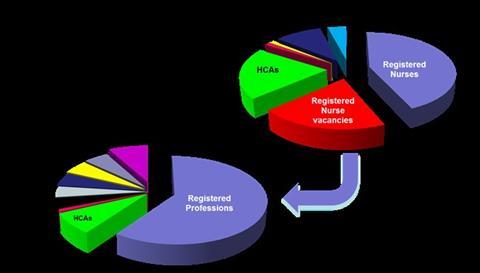 There have been concerns from the nursing profession that the nursing associate role could mean the down-skilling of nursing and have risks for patient safety. Research in 2014 looking at staffing levels across European countries showed substituting one non-nurse for a nurse increased patient mortality by 21 per cent. Other research has also shown the value of degree educated nurses for patient outcomes.
Ms Smith said the trust's plan to review ward staffing was not aimed at reducing costs or wholesale substitution of nursing associates for nurses.
She said the trust's "Tomorrow's Ward" concept was designed to examine the needs of patients ward by ward, to see which roles, including other allied health professions, were needed to deliver safe, high quality care for patients.
"We have got a scenario where we have 500 vacancies and that is likely to grow. We can't just keep saying we need 500 nurses that we can't get. Until the NMC tell us what the scope of practice for the nursing associate will be and set those boundaries, it is impossible to say where the nursing associate will fit into the workforce," she said.
She added: "We have to make sure patients get the right care. Some of my nurses are doing tasks they don't need to do, they are cleaning bed spaces and giving out cups of tea, things other people can be trained to do.
"It might be that we replace a nurse with a pharmacist or a physio, I don't know yet. It depends on the level of care and the type of wards they are on. When we know what the boundaries for the nursing associates scope of practice will be it may be that on some of our wards, we do say we can have a different ratio of registered nurses. I am certainly not saying we are going to replace 500 nursing posts with 500 nursing associates."
On the impact of Brexit, she said the trust was at one stage recruiting up to 40 nurses every few months from Europe but now "we are getting only a handful, if any. We have an outflow but not the inflow. We have been out internationally to India and the Philippines and identified a couple of hundred good and experienced nurses who want to come but the process to get them here is particularly challenging, including affordability of the process and the language testing from the NMC is very difficult for them. I do think it is set too high."
Source
Information provided to HSJ