University Hospitals of Leicester Trust has declared an internal major incident after patients were left waiting in ambulances for up to two hours during five days of high pressure on emergency services.
HSJ has seen a leaked email sent to staff at the trust on 16 November, in which medical director Andrew Furlong wrote: "Earlier today we called an internal major incident following five days of increased emergency pressures.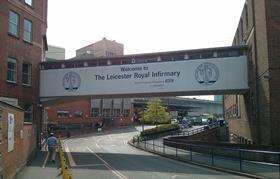 "This has resulted in very high numbers of patients in the emergency department (over 140 at some points); the emergency department resuscitation area being permanently full; and patients being held on the back of ambulances for up to two hours."
The email said despite attempting to address the issue over the five days, the trust had not seen a significant improvement. The problems were being exacerbated by having "the equivalent of two wards of patients" who did not need to be in hospital.
It added: "Given the current position, we need to make sure that every patient in our beds absolutely needs to be there and consider whether they could be discharged with alternative arrangements in place."
In a second email sent on 17 November, also leaked to HSJ, Mr Furlong confirmed the trust was still on an internal major incident but had prevented the situation deteriorating. However, it had not turned around performance in the emergency department or clinical decisions unit. "We continue to have a very limited number of inpatient beds for urgent and emergency patients on all three sites," the email said.
The trust runs Glenfield Hospital, Leicester General and Leicester Royal Infirmary.
The trust has taken measures to improve its patient flow, including cancelling elective activity across its children's wards to "free up" clinical staff to help in emergency care.
Mr Furlong said the trust will carry out a senior medical review for every patient in a bed to decide whether they can be discharged or transferred to another setting.
"In addition, we are also undertaking a forensic review of every patient in all services to see whether patients are waiting for any intervention or diagnostic that could be expedited," he said.
The trust was approached for comment.
Source
Information provided to HSJ
Source date
16 and 17 Novemebr 2016