University Hospitals of Leicester Trust has been buddied with Luton and Dunstable University Hospital Foundation Trust as it looks to "rapidly redesign" its emergency care service.
UHL, one of the largest trusts in the UK, has made progress on raising its four hour A&E waiting times performance following a "September surge" focused on improving flow throughout the hospital.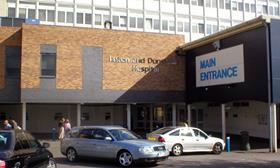 Although the trust is still missing the national target and has been among the worst performing trusts in the country this year, messages to staff from chief executive John Adler show its trajectory is in the right direction.
In one of his latest messages to staff on 10 October, Mr Adler revealed the trust had been buddied "by the NHS nationally with Luton and Dunstable FT and we continue to work with them to rapidly redesign the emergency care system within our hospitals".
He said the trust's performance on the four hour target varied between 83 and 92 per cent. He added: "This continues the upward trend but remains below what we should be offering our patients."
The trust is making several changes to its emergency care pathway to help improve performance.
From this week, acute medicine consultants and junior doctors will be in the A&E from 9am to 9pm with other medical specialties managing patients earlier in the medical assessment units.
Mr Adler said: "The idea is that by 'pulling forward' senior acute medical presence there will be closer working between emergency and acute medicine, more rapid specialist care and unnecessary medical admissions will be avoided.
"This is a model successfully adopted by Luton and Dunstable, the best performing trust in the NHS on emergency access."
The trust has also strengthened staffing in the evenings and overnight with additional senior doctors. More than 120 out of 196 shifts are covered until the end of November.
Patients in A&E will be managed earlier by specialties with the acute medicine consultants deciding on the specialty and those clinicians taking responsibility for reviewing the patient.
The trust has appointed a head of patient flow who will report direct to Mr Adler.
There is a "safety huddle" every morning in the A&E, as well as extra porters and wheelchairs in the acute medical unit, and a trainee assistant practitioner has been introduced who will coordinate discharge planning on medical wards.
In the message to staff on 10 October, Mr Adler said: "You will see that whilst performance improved somewhat during the September surge, this has not yet become sustainable and we have seen some dips in recent weeks. Some of this is caused by variations in performance – for example 78 per cent on Monday of last week and 95 per cent on Friday – the latter being where we should be and an indication that we can do it.
"Thank you once again to the very many people who are contributing to this work, your effort is deeply appreciated and will ultimately make a real difference to our patients."
Source
Information provided to HSJ