University Hospitals Leicester puts 12 day restriction on elective work
It cites high demand, bed occupancy and delays on discharging patients
Restrictions will cover school half-term week
One of the NHS's largest trusts has been forced to restrict elective activity for the first time in "at least four years" due to high demand, HSJ has learned.
University Hospitals of Leicester Trust is restricting treatments for 12 days across all three of its sites to free up staff to "protect emergency and cancer capacity" amid high demand, bed occupancy and discharge delays.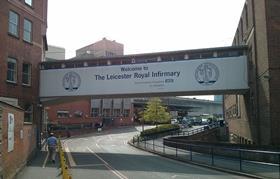 The restriction came into place on 8 February and will last until 19 February, to cover half-term week, the trust's leadership told staff in an email seen by HSJ.
The news comes after official statistics revealed A&E performance for December in England had sunk to its lowest level since the data started being collected more than a decade ago.
Leicester's December performance was significantly below the national average of 86.2 per cent, with the trust only hitting the four hour target 76 per cent of the time.
It is unclear how many other trusts have placed restrictions on elective work but the move follows NHS Improvement ordering hospitals to focus on emergency activity over the Christmas period and "cease most inpatient elective activity". Trusts were only told to take such measures until 16 January.
The email said the trust felt it needed to take "difficult decisions to cancel elective… We did not take this decision lightly and do not believe that our organisation has taken a similar decision in at least four years".
It added: "We continue to experience high emergency surgical and medical demand across all of our three sites, have high intensive treatment unit activity and delays in stepping patients down, have patients waiting for beds longer than we want in emergency departments, have high ED and clinical decision unit occupancy and have many patients experiencing external delays for discharge."
The message, from the trust's chief nurse, medical director and chief operating officer, said it had "not been an easy decision to take and we recognise this will impact on many patients and staff and we are very sorry for this".
It continued: "But we hope you understand that the decision was necessary to improve care and flow for the emergency and cancer patients across all three sites, noting that next week is half-term, which may bring further challenges."
Trust managers said the ambulatory surgical unit would be used as additional capacity for emergency medical and surgical patients for this period. Theatre staff who support the lists that have been taken down are being deployed to support resuscitation to improve ITU flow. Surgical teams who are not operating will be asked to support emergency work, increased ward rounds and increased in-reach into emergency departments, the email said.
Source
Email obtained by HSJ