Lowest paid staff will get a pay rise along with £5m invested in services
Subsidiary company could pursue commercial opportunities to raise funds
Previous facilities management contract with Interserve collapse in 2016
University Hospitals Leicester Trust is to create a wholly owned subsidiary to run its facilities management services as the board has been told current arrangements are "not sustainable".
The trust plans to invest £5m into its facilities services including increasing the salaries of the lowest paid staff.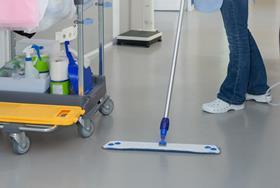 The limited liability partnership will manage estates, facilities and procurement services and could pursue new commercial opportunities.
In its first year, the partnership will increase salaries, spend £2m on cleaning and recruit more maintenance staff, the trust said.
The proposal is expected to be approved at a board meeting on Thursday.
In 2015, Interserve won a seven year, £300m contract to manage NHS buildings in Leicester, Leicestershire and Rutland. The deal was terminated in April 2016 after the company was issued with a warning over poor cleaning standards.
In a report being presented to the board on Thursday, the trust said it was below "national and peer averages" for the services, and cleaning and maintenances costs were "at or below the lowest quartile with subsequent quality indices showing well below national averages".
The report said: "The continued application of no real investment and cost improvement programmes seriously risks reducing quality standards further. Quite simply, the continued provision of services through existing arrangements is not sustainable."
The trust already has an outpatient pharmacy subsidiary that was set up a year ago.
Approximately 1,700 staff will be affected by the changes with approximately 200 of the lowest paid being offered a pay rise.
The paper said: "Currently, our healthcare estates and facilities services are provided across a variety of inhouse teams including an estates management and facilities services team and a procurement and supplies team. We are currently experiencing a variable quality of service, within the limitations of available resources, to UHL and our patients.
"There is a requirement to make additional investment and the trust is keen to pursue commercial opportunities as part of the wider NHS transformation change and in line with its own commercial strategy."
Darryn Kerr, the trust's director of estates and facilities, said: "This new model would enable us to invest more in the service, recruit more staff and create a real, visible difference in our hospitals. Wards would be cleaner, services would be more responsive and staff morale would be boosted.
"We recognise that there has been much change for staff in our estates and facilities team in the past few years but we really believe that this new model would end that uncertainty. This is an NHS owned partnership and will be a long term commitment to cleaner, better maintained hospitals."
Once approved, the partnership is expected to be up and running by October.