EMRAD imaging system rollout delayed at Chesterfield Royal Hospital
Clinicians say system does not work and frequently breaks down
Leicester hospital staff sent a letter expressing no confidence in the system
A hospital trust has delayed the rollout of the troubled East Midlands Radiology consortium imaging system until next year amid ongoing performance concerns.
A risk report by Chesterfield Royal Hospital Foundation Trust has warned the expansion of EMRAD could fail. It has been put back to next year until system supplier GE Healthcare can deliver improvements.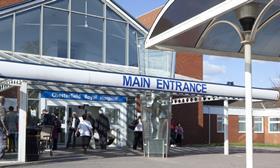 News of the delay is the latest blow to the vanguard project, which has been beset with performance issues. Last month, University Hospitals of Leicester Trust withdrew from the consortium.
HSJ has learned radiology staff at UHL sent a letter expressing no confidence in the system and warned of patient safety concerns earlier this year.
Chesterfield Royal chief executive Simon Morritt held meeting with officials from the consortium over concerns about the picture archiving and communication system, which is supposed to deliver linked functionality between hospitals allowing images to be quickly shared and accessed across sites.
A "high level risk report" to the trust board said: "The deployment of EMRAD solution/GE PACS will fail."
It added that the "go live" date had been "postponed until February/March 2018 to allow greater system stability and reassurance across all partners".
An earlier report in July highlighted GE Healthcare's new system had gone live across five hospitals with "mixed results", adding "The risk [to the trust] was high due to deployment issues, not fit for purpose system, contract implications and financial cost."
A trust spokeswoman said it was still working with the other trusts. She said: "GE's technical system currently has some performance issues that we agree do not meet the high standards the consortium demands. We are collectively holding GE to account to make improvements – and an international team of their technical experts is onsite in the East Midlands. Our board supports this approach until we are satisfied the system meets the levels of performance that our clinical colleagues expect."
Last month, UHL announced it would be leaving the consortium after persistent difficulties caused day to day problems for clinicians trying to access and share images and reports.
Clinicians told HSJ the system repeatedly breaks down, is slow and, in some cases, has meant emergency images being set between hospitals via taxis.
In the summer, radiologists from UHL sent a letter of no confidence in the EMRAD system to trust managers including their concerns over patient safety.
The trust confirmed the letter's existence but did not respond to a request to share the letter with HSJ prior to publication.
A UHL spokeswoman said: "In the summer we received a letter signed by a number of our clinical colleagues outlining their concerns with EMRAD. We recognised their concern and asked EMRAD/GE for an improvement plan.
"Recently it has become clear that despite best efforts the system is still unstable, so we made the decision to find a new solution and put it in place. For now, we will continue to be part of EMRAD until we can mutually separate in a controlled manner."
GE Healthcare has apologised for the problems and has sent engineers to trusts across the region to try to fix the problems.
Dr Tim Taylor, medical director for the EMRAD consortium, said: "The consortium continues to work together and with GE Healthcare to address some of the technical issues trusts continue to experience. The consortium is about collaboration and partnership working across the region, even more than technology and systems. All members are committed to the ongoing development of the network which will deliver improved services for patients."
Source
Information provided to HSJ