John Adler says there needs to be improvements throughout the hospital
Leicester trust's A&E performance sometimes the "worst in the country"
"We can do better and we must," insists chief executive
The chief executive of one of the largest acute trusts in England has warned its 12,000 staff that its poor emergency care performance "simply cannot continue".
John Adler, chief executive of University Hospitals of Leicester Trust, told staff on Monday the trust's accident and emergency performance was sometimes the "worst in the country".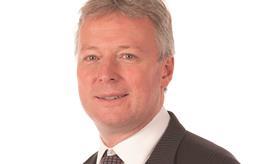 He said the fault lay with team performance across the hospital with delays in flow and discharge leading to the creation of "clinical risk" for emergency patients.
Mr Adler, who joined the trust in 2013, said there needed to be improvements throughout the hospital but also that the trust had identified a lack of 105 beds, and poor medical and nursing staff at night as central issues.
He criticised a failure to implement changes, warning: "No action plan has been consistently implemented across the trust with all shifts and professionals."
The email, seen by HSJ, reveals the pressure that the trust is under but also spells out plans by trust bosses to take firm action in coming weeks with a "September surge" planned to get the trust meeting the A&E waiting time target for 90 per cent of patients.
Mr Adler said: "The trust currently has a significant problem and thus risk with regard to the waiting times experienced by patients who require emergency care. This is evident in our breaches of the four hour target, with 16,623 patients (21.3 per cent of attendances) waiting over four hours since the beginning of April.
"Such waiting times for undifferentiated patients represent both a clinical risk and level of patient experience that we do not want for our patients and it simply cannot continue."
He said reducing the risk to emergency patients was the number one priority for the trust.
"For every day that goes by where improvement is not made, an average of 142 patients risk experiencing long waits within the emergency department – many of these are older, frail and vulnerable people," he warned.
Mr Adler said the trust had managed to achieve only 80 per cent of A&E patients being seen within four hours, ranking the trust 120 out of 137 providers.
He added: "Our performance is very poor and in some recent weeks it has actually been the worst in the country. I would mention that this situation is not typical of the trust as a whole. On most other quality and performance indicators we do at least as well as other trusts and we have, therefore, much to be proud of. But not when it comes to emergency care."
Setting out what he believed were the causes of the problems Mr Adler identified:
Insufficient bed capacity for the number of patients.
Capacity is not used efficiently and patients not discharged or moved in a timely manner.
Internal delays "are associated with not getting 'today's work completed today' and not being thorough in the planning of patients' care through to discharge".
Waiting times to be seen by a doctor in A&E are worse in the evening and overnight because medical and nursing resources do not match demand in those periods. Mr Adler said: "Along with exit block this is the single biggest cause of the excessive numbers of four hour breaches."
It was not "sufficiently recognised internally" that the issues were "a whole hospital problem".
The approach to improvement "has not been robust enough".
Mr Adler told staff there had been numerous action plans that had mixed success. He said: "No action plan has been consistently implemented across the trust with all shifts and professionals. A widely held view is that this is more related to the 'how' of implementation rather than the 'what' of what needs to be implemented."
He said that over the next seven weeks new steps would be taken. "This time we are going to ensure that the key known actions are properly embedded and, crucially, that everyone works together to make the emergency care pathway operate more effectively for patients," he wrote.
He said the trust would not just measure A&E four hour performance but also consider other metrics such as time to see a doctor, the responsiveness of wards, and time to discharges and transfers.
He concluded: "This will only work if everyone gets behind the effort and works collaboratively to ensure that things happen in a timely way for our emergency patients. Whatever the pressure we are under, we can do better and we must."
Source
Information provided to HSJ