Trust moves vascular services alongside cardiology as part of £13.2m development
New "hybrid theatre" to offer minimally invasive surgery
Consultant confident reconfiguration will align with Get It Right First Time recommendations
An acute trust has shifted vascular services nine miles as part of a £13.2m plan to establish a new cardiovascular institute in the East Midlands.
The move comes ahead of the publication of a Getting It Right First Time review into vascular services, expected this autumn.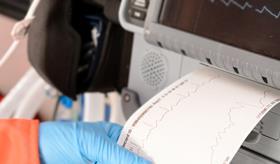 Vascular services moved from Leicester Royal Infirmary to Glenfield Hospital, last weekend to enable University Hospitals of Leicester Trust to integrate vascular, cardiology and cardiac surgery services. The changes are expected to improve patient pathways, reduce clinical risks and shorten lengths of stay.
Consultant vascular surgeon Mark McCarthy, head of service at Leicester's hospitals, said integration would also allow the trust to treat more complex cases of cardiovascular disease.
He said he was confident the reconfiguration of services would align with recommendations in the forthcoming GIRFT vascular surgery review, led by Professor Mike Horrocks, to reduce unwarranted variation and improve patient care. The review is expected in the autumn.
Mr McCarty added: "It's almost going to be a cardiovascular institute, that's what we're aiming for.
"We recognise patients with vascular disease have other medical problems such as heart problems.
"Our heart specialists are at Glenfield Hospital, so it seemed sensible to have our patients on the same site as the cardiologists as they quite often require input from them.
"We are treating increasing complex aortic disease and the cardio surgeons are here. It is another reason for us to be close to them, to be able to do more complex work together in the same hospital."
Central to the development is the opening of the trust's first "hybrid theatre" with advanced imaging capabilities. This allows for minimally invasive surgery, which is less traumatic for patients and shortens lengths of stay.
"We were doing that to a degree at the Royal Infirmary but the kit we were using was quite antiquated," Mr McCarthy said.
"The theatre itself will be used by cardiologists putting in aortic valves on Mondays and the rest of the week it will be used by us and the radiologists.
"We've got this very expensive piece of kit and a beautiful new ward, which has been totally refurbished and is much more patient friendly."
Surgery using the new equipment started on Monday and multidisciplinary teams including theatre nurses, anaesthetists, cardiologists, radiographers and surgeons will stage mock scenarios over the coming weeks to test positioning and equipment.
Mr McCarthy said new "emergency leg clinics" would be set up to improve the treatment of patients with critical limb ischemia, a severe condition of peripheral artery disease that needs urgent treatment by a vascular specialist.
He said: "Anyone presenting with 'hot leg' or 'hot foot' can be seen, have their scans and tests in the morning and see the consultant surgeon in the afternoon to decide whether they need to come into hospital.
"By doing this we aim to reduce the length of stay and reduce the number of admissions."
Source
Information provided to HSJ