PATIENT SAFETY: A midwife already being investigated by the Nursing and Midwifery Council at University Hospitals of Morecambe Bay Foundation Trust has been suspended after the death of a baby last month.
HSJ has learned the midwife is one of those awaiting a hearing at the NMC over the treatment and death of baby Joshua Titcombe, who died after being born at trust's Furness General Hospital maternity unit seven years ago.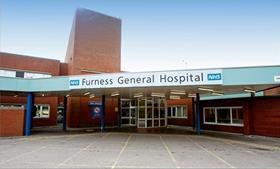 The trust confirmed to HSJ that it had launched an investigation after the death of a baby in February. The midwife, who has not been named, has been suspended pending a full investigation.
The trust has asked experts from Royal Preston Hospital, run by Lancashire Teaching Hospitals Foundation Trust, to assist with the investigation.
The NMC is aware of events.
David Walker, UHMB's medical director, said: "It is tragic that a family has lost a loved one, and our heartfelt condolences go out to them.
"As is our practice in circumstances like this, a full independent investigation was launched immediately to allow us to understand what happened and if there was anything that could or should have been done differently. We will continue to liaise directly with the family."
He added: "A staff member involved in the case is under precautionary suspension whilst the investigation takes place. It is not appropriate to disclose further details at this stage, other than to state the trust will uphold the duty of candour and ensure the appropriate parties are kept informed.
"It is important to remember that we have taken this precautionary action in the best interests of the women and babies we care for, as well as the staff members concerned. This isn't to apportion or infer blame, but to allow an investigation to be conducted to establish the facts. The safety of everyone who uses our hospitals is our priority."
A number of midwives are being investigated by the NMC following the inquiry into poor care at the trust chaired by Bill Kirkup.
His final report, published in March 2015, concluded that failures at every level of the NHS combined to create a "lethal mix", which caused the avoidable deaths of at least 11 babies and one mother.
An NMC spokesperson said: "We have not received a referral relating to this tragic incident but we remain in close communication with University Hospitals of Morecambe Bay NHS Foundation Trust about their investigation.
"Last year, we removed one midwife from the NMC register from this trust and we already have several more cases that we will be bringing to a hearing over the next few months. These cases relate to incidents that took place at Furness General Hospital between 2004 and 2013.
"If any new allegations come to light we can act at short notice to impose an interim suspension order that prevents a registrant from working if there is evidence of an immediate risk to patient safety."
Source
Information provided to HSJ